Over the last forty years, research in African studies at Bayreuth has been developed and undertaken in close cooperation with a large number of universities on the African continent. Thirty African universities have signed Memoranda of Understanding (MoU) with the Institute of African Studies (IAS). Some of these collaborations have been intensified in the context of special programmes.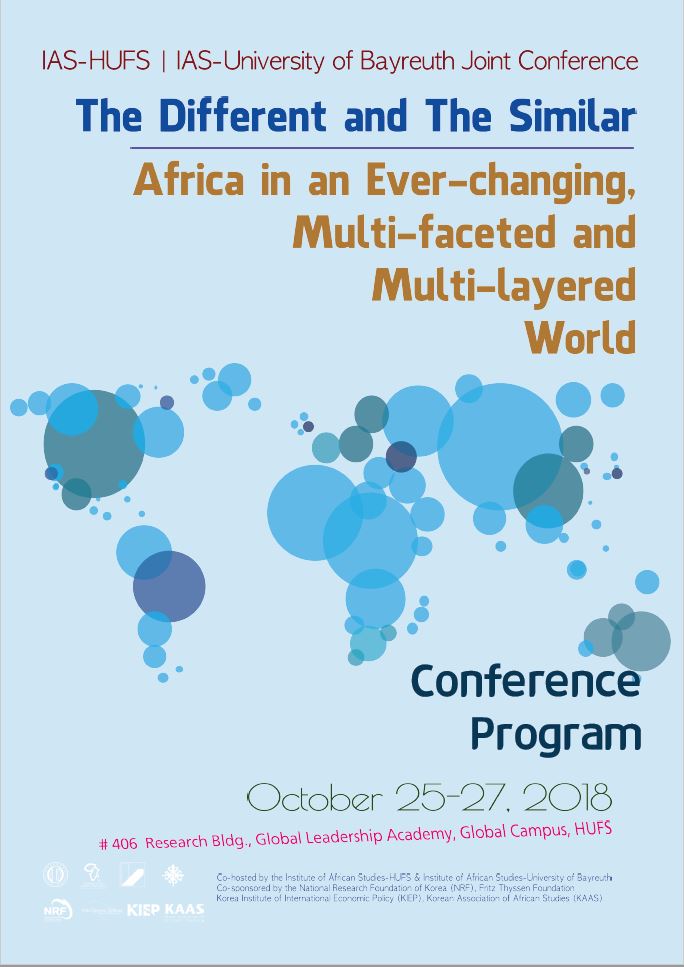 The conference at the Institute of African Studies at Hankuk University of Foreign Studies, South Korea, was a follow-up of the kick-off meeting in Bayreuth in December 2017, joined by most of the partners of the international network.
Find the programme here.
The group photo was taken during the conference on HUFS Campus (Conference group photo)
---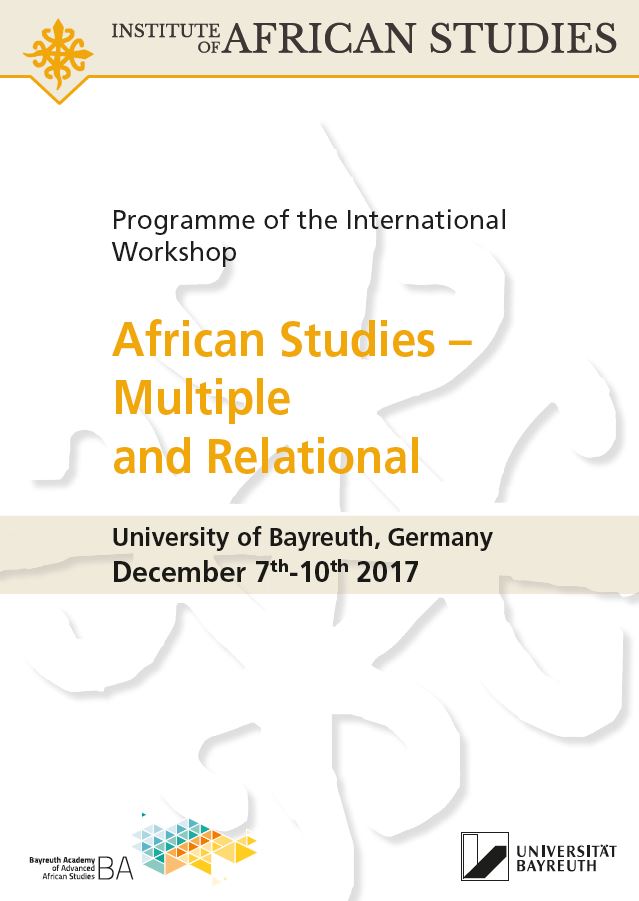 In 2017 a workshop, organized at IAS in Bayreuth, brought together 21 representatives of African studies institutions on all five continents, with whom the Institute of African Studies had collaborated before. The focus was laid on bringing a global and multidisciplinary perspective to Bayreuth's African studies. We took the opportunity to compare and discuss our objectives, as well as the political and academic histories of our various disciplines, institutions, and settings, and their influence on African studies in diverse regions.
Find the poster here.
Find the programme here.
A group picture was taken at Iwalewahaus during the conference (Conference group photo).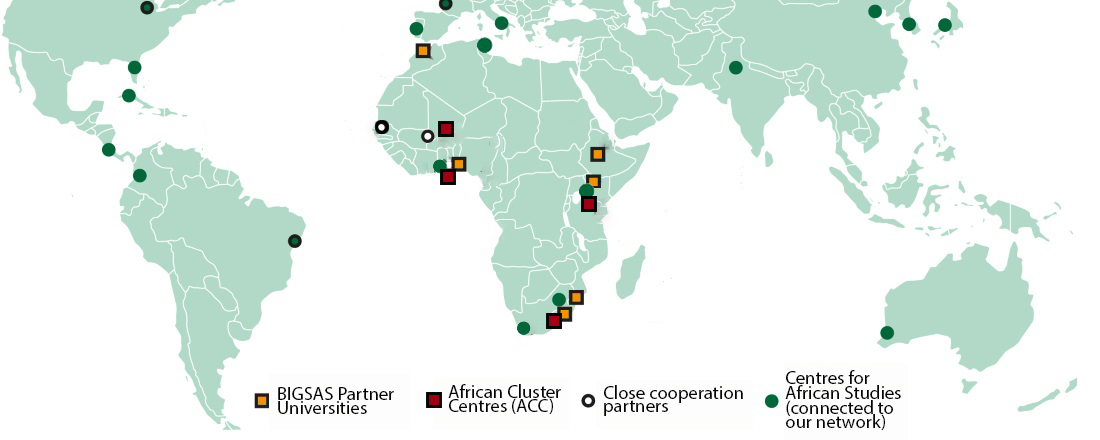 ---
African Cluster Centres


Please find further information here.
---


BIGSAS Partner Universities

A unique network has evolved from cooperation between Bayreuth International Graduate School of African Studies (BIGSAS) and the BIGSAS Partner Universities.
Université d'Abomey-Calavi, Cotonou, Benin

Addis Ababa University, Addis Ababa, Ethiopia

Moi University, Eldoret, Kenya

Mohammed V University of Rabat, Rabat, Morocco

Universidade Eduardo Mondlane, Maputo, Mozambique

University of KwaZulu-Natal, Durban, South Africa
---
International Partners


University of Bordeaux, especially its research centre Les Afriques dans le Monde (LAM)
Indiana University in Bloomington (USA)
Centro de Estudos Afro-Orientais (CEAO) at the Universidade Federal da Bahia (UFBA) (Brazil)
Institute of African Studies, Hankuk University of Foreign Studies, Seoul, South Korea
The Institute of African Studies at Hankuk University of Foreign Studies (IAS-HUFS) founded in 1977, is a leading research center concerning African studies in Korea. The institute's academic interest is comprehensive and covering a wide range of academ ic disciplines on African studies: from linguistics and literature, history and anthropology, to political science and developmental studies. IAS-HUFS has undertaken a 10 year project (2000-2010) on 'cultural contact and creolization' in Africa. As the project is due to over, IAS-HUFS is planning to start a consecutive project.

For the last 10 years, IAS-HUFS has been working as a hub to foster cooperative academic networks among Asian Africanists and institutes. The international partnership of IAS-HUFS had thitherto been skewed, as the main routes of academic exchange were centered on Western scholarship. Thus the institute attempted to find an alternative and complementary way of achieving international cooperation and this is the second logic of networking among Asian countries. The institute has facilitated the network for consolidating academic activities and partnership.