Conference Panel "The Body as Medium" – Interview with Viviane de Freitas and Jonas do Nascimento
Cluster members Viviane de Freitas and Jonas do Nascimento are collaborating to present a panel at the upcoming Cluster Conference. The panel "The Body as Medium: Negotiated Memories by African and Afro-Brazilian Women Artists" will feature a debate with African and Afro-Brazilian women artists through the prism of the body as medium and show examples of their particular ways of expression. In this interview the organizers talk about how their respective research projects brought them together and what people can expect from the panel that they are putting together.



Viviane and Jonas, you are organizing a special panel for the upcoming Cluster Conference. Before we talk about that can you tell us a little bit about yourself?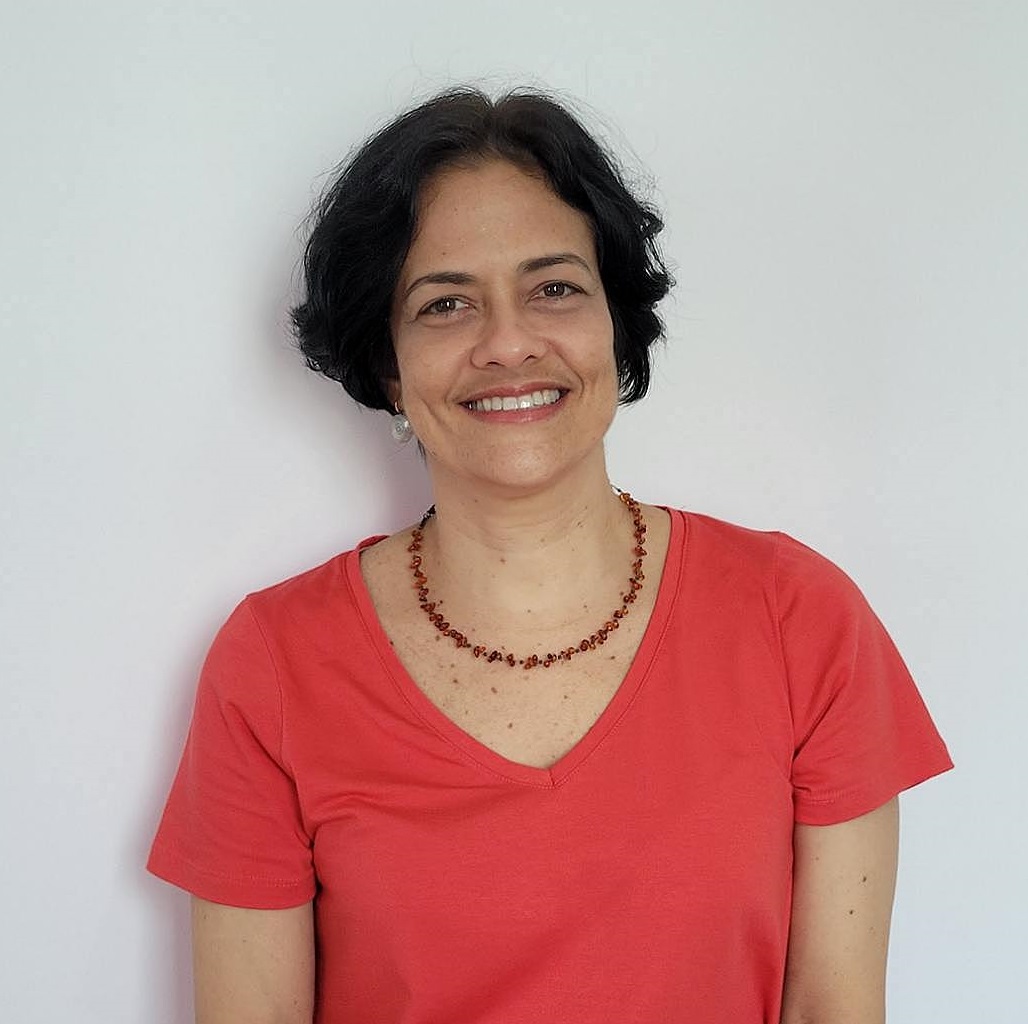 Viviane de Freitas: I come from Salvador da Bahia, in Brazil. I am an Associate Professor of English and Literature at the Center for Culture, Languages and Applied Technologies at the Federal University of Recôncavo da Bahia (CECULT-UFRB). My research interests are centered on Decolonial/postcolonial studies, Gender and diversity, Caribbean, Brazilian, African and Afro Diasporic Literatures. Lately, I have been focusing on the dialogues between literature and media, literature and other arts, literature, and education.
Jonas do Nascimento: I come from the same region as Viviane but from another city, called Olinda, in the province of Pernambuco, neighboring Bahia. Coincidentally, Olinda and Salvador are the two oldest cities in Brazil, with strong marks of the Portuguese colonial period in their physical and social aspects. I have a degree in Social Sciences from the Federal University of Pernambuco, where I also did my master's and Ph.D. at the Institute of Sociology. During my doctoral period (2017-2019), I also had the opportunity to come to Bayreuth and establish my first contact with Prof. Dr. Ute Fendler, one of my advisors and colleagues on different projects. My main research interests comprise a variety of topics: Culture, Art, and Politics, as well as Collective Memory and Sociological Theory.
How would you both describe your experience with the Cluster at the University of Bayreuth?
Viviane: I have a ten-month-fellowship; I came to Bayreuth in October 2021 and I will leave at the end of July. This period living in the city and participating in the Bayreuth Academy and the Cluster activities was very lively and engaging. Being in Bayreuth during this time gave me the opportunity to strengthen ties with my hosts, Prof. Fendler and Dr. Gilbert Ndi-Shang, and create collaborations with members of the Research Section and of the Research Project I am affiliated with, as well as with other fellows and post-docs. For example, I got to know my colleague Jonas do Nascimento in a monthly activity he promoted about Brazilian Film exhibitions followed by discussions with filmmakers. Then, we had the idea of developing other activities together, such as the proposal for the Annual Conference Panel. But many ideas and synergies also arise in casual conversations at the Academy, where we have our offices, or in our informal gatherings in the city.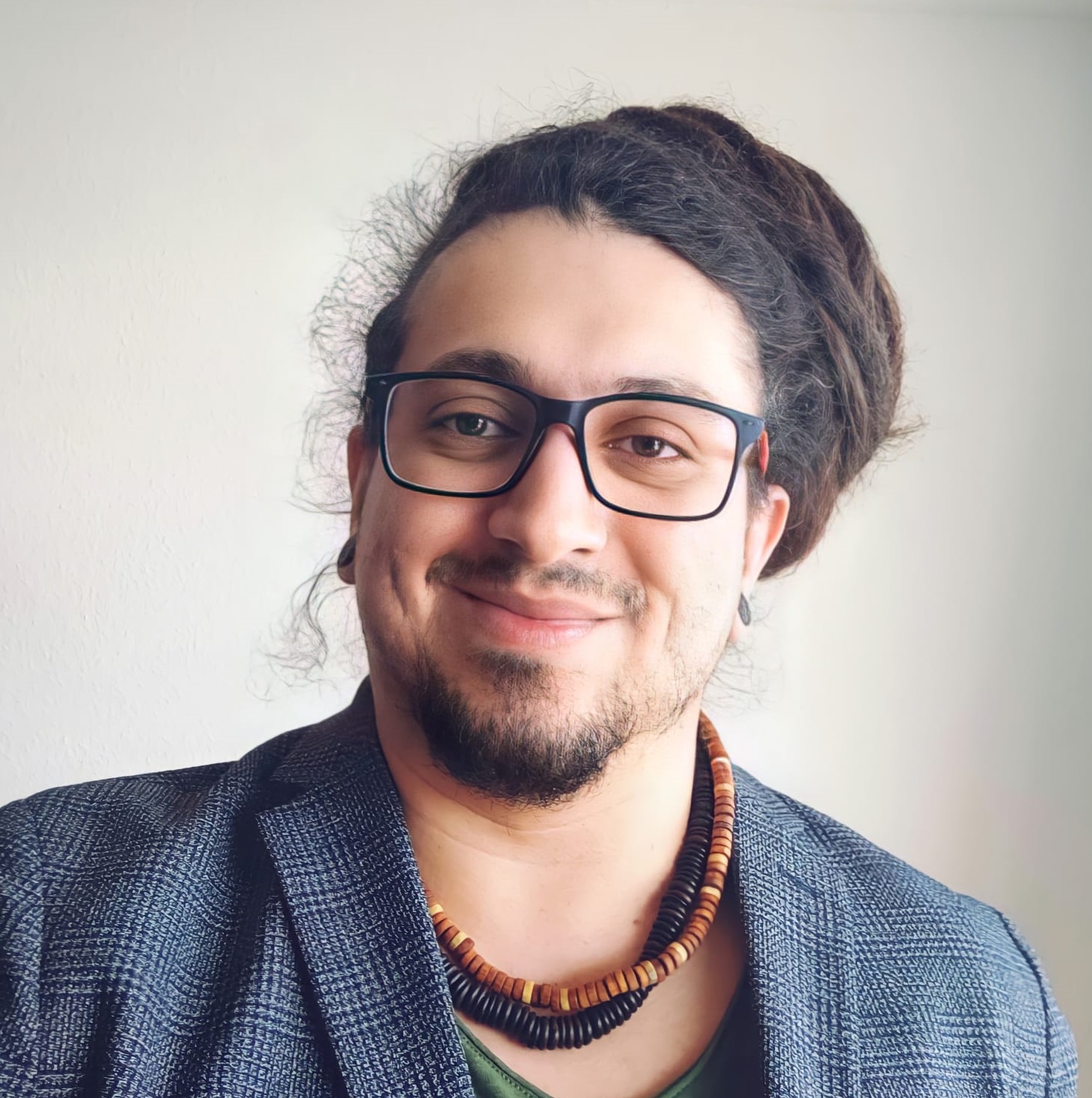 Jonas do Nascimento
Jonas: As I said, my experience in Bayreuth started a little earlier. However, as a Fellow of the Cluster in 2021, integrated into the "Black Atlantic Revisited" Project, headed by Prof. Ute Fendler, I was able to have a structure provided by the Cluster to hold monthly meetings with Brazilian artists, as mentioned by Viviane, and from there start a transatlantic path of dialogue. In these meetings, Viviane and I realized that we could think about proposing something together, given our affinities. And seeing this come to fruition is a source of great satisfaction.
What are the objectives of your Fellow Research Project?
Viviane: My research project is entitled "The multiple temporalities and the body in works by Afro-Brazilian female artists from Bahia-Brazil", and its objectives are very much in line with those of the Research Section "Arts & Aesthetics" and the Research Project "Black Atlantic Revisited: African and South American UNESCO World Heritage Sites and 'Shadowed Spaces of Performative Memory'", coordinated by my hosts, Prof. Dr. Ute Fendler and Dr. Gilbert Ndi-Shang as well as by Thierry Boudjekeu. The Black Atlantic Revisited project looks at the ways memories of slavery are constructed in UNESCO World Heritage Sites, such as in the city where I come from, Salvador da Bahia (Brazil). The Black Atlantic project turns to these African Heritage sites to question how they negotiate the construction and transmission of memory. One of its main objectives is to investigate how alternative memory sites respond to the official sites and instigate alternative archives of lived and shared memories of the Transatlantic slave trade. My fellow research project looks into the practice of Afro-Brazilian women artists from Bahia, who are significantly connected with their African ancestry, the African heritage, and whose works are rooted in the specific geography and history of the city of Salvador and Recôncavo da Bahia. I explore the interrelation between body, memory, time and knowledge production in these artworks, which I consider as examples of alternative archives. In all the selected artworks, the body has a central role as site of "re-membering", memory and ancestral knowledge that call alternative temporalities into being. The emphasis on knowledge production instituted by corporeality gains especial relevance when considered in relation to the silences and erasures in the history and public memory of slavery in Brazil, and in Salvador da Bahia in particular, which my object of investigation.
Jonas: From the same perspective, however, focusing on visual archives, I sought to reflect on how the memory of Afro-Brazilian culture has been re-elaborated, re-signified, re-affirmed, and re-presented in Brazilian public debate, especially in the cinema of young filmmakers. As an emerging political, ethical, and epistemic force in the Brazilian public sphere, those artists reject an excluding modernity by challenging the Eurocentric hegemonic project of a single and homogeneous history. The Aesthetic Praxis thus becomes a path to "other forms of existence." Here we urgently need to analyze the "processes of emancipation" from a decolonial perspective. In other words, from the analysis of how these groups use a "visibility strategy" to question the institutionalized practices of racialization and exclusion to redefine and reframe their own lives. In this sense, the "memory" occupies a primordial place as "re-existence" and "resistance." And here is where the threads of our projects interconnect to investigate different alternative archives of life in the black Atlantic.
So currently you are also organizing a Panel for the annual Cluster Conference in July. What are the connections between your Fellow Research Project, the "umbrella" research project "The Black Atlantic Revisited …", and the Panel "The Body as Medium"?

Viviane: Both mine and Jonas' research projects are affiliated with the "Research Section Arts & Aesthetics" and also to the project "Black Atlantic Revisited…". What connect us is our objects of investigation, which are artworks and artistic practices, as well as our research focus on African heritage, memories of slavery, and on the issues of representation and production of knowledge in relation to Black experience and thought. These are also central concerns to postcolonial and decolonial studies, and also to Black/Decolonial Feminist studies, which are important references for our Panel debate.
Jonas: In addition, such a change in perspective – by opening up the scope to include locations outside north America – brings new methodological elements to the debate insofar as it allows us to develop critical viewpoints on the Black Atlantic locations and a truly plural notion of the African diaspora. This means considering non-Anglophone – e.g., Lusophone and Hispanophone, Francophone – black identities and their multiplicity of "being" and "doing", which contribute to re-signifying new ways of "sensing" – as a decolonial praxis of "re-existence".
Could you comment on the notion of the body as medium, which is the title of the Panel?
Viviane: We drew on the notion of the body as a locus of memory and knowledge, as elaborated by Leda Maria Martins. Martins names "oralitura" the gestures, overwritings and performative palimpsests, inscribed by the voice and the body in the context of the performances of oral traditions and ritual practices of Afro-Brazilian religions. The concept "oralitura" drives the attention to the presence of what Martins characterizes as "the residual, stylistic, mnemonic traces and cultural devices echoed and inscribed in and by the body in motion". Our idea of the body as medium was informed by both Leda Martins and Diana Taylor's theorizations on the notions of "performance", "archive" and "repertoire". These concepts foreground the idea of the body as a site of knowledge in a continuous movement of re-creation and revision of the cultural corpus. The body is a medium for inscribing ways of knowing, as well as values, concepts, worldview and styles. Both Martins's and Taylor's concepts emphasize the need to acknowledge non-textual, unrecordable forms of cultural memory and knowledge production, particularly when instituted through corporeality. They interrogate the ways ephemeral, performative forms of knowledge, have participated and continue to participate in the transmission of knowledge and memory.
How was the Panel conceived, how did you select the artists?
Viviane: Our Panel integrates five women artists. One of them, Gladys Kalichini, is from Zambia, and the other four are Afro-Brazilian artists: the young directors Laís Lima and Everlane Moraes, the writer and visual artist Deisiane Barbosa, and the dancer/choreographer/anthropologist Luciane Ramos-Silva.
Jonas and I selected the four Afro-Brazilian artists. The individual proposal of the Zambian artist, Gladys Kalichini, was integrated afterwards, as a suggestion of the Conference Committee, which turned out to be a gift for us because her work has a lot of synergies with the other artists' work. Gladys' paper engages with the theory of intermediality in relation to the social and performative artworks of two Zambian women artists, Agnes Buya Yombwe and Gladys Kalichini herself.
The artists' works, in different ways, foreground the black female body and place black women at the centre of representational agency and cultural power debates. It is also meaningful in the sense that the artists' practice and artworks articulate cosmovisions and epistemologies that derive from African and Afro-Brazilian experience, knowledge, and religiosity.
Jonas: Thus, we seek to establish "points of intersection" between multiple modalities and forms of narratives to understand how they permit reconfiguring old cultural cartographies by forging alternative spaces and temporalities capable of contesting "institutionalized memories." That will encourage, for example, Lais Lima (YABAS) and Everlane Moraes (PATTAKI) to make a "memorial cinema". By running through their historical traces recurrently present in these groups' bodily hexis, these artists light the dark and forgotten corners of African ancestral history and culture in Brazil and contemporary Latin America. By considering these aspects, one notices that it is impossible to neglect the heterogeneous nature of the societies shaped by the slave trade.
In which ways does your Panel contribute to the Cluster Conference's theme "Medialities"?
Viviane:The idea of the body as medium gains meaning when considered in the context of the artists' practices. The body is a medium for other ways of knowing and remembering, related to the specific subjects, geopolitical relations and histories, and connected to the African spiritual spaces, heritage and ancestry. The perspective of the body as medium in the situated contexts of these artworks can be very disruptive. It provokes us to conceive of other media objects and mediated forms of lives which do not participate in the media history narratives.
The emphasis on the idea of the body as a site of memory and knowledge production, as theorized by Leda Martins, for example, deconstructs the privilege of the written over the oral and corporeal means of knowledge, instituted by North Atlantic modernity. As Martins puts forward in her elaborations on the concept of "oralitura", the word is also inscribed in the body, in memory, in time. This aspect gains relevance especially when we take into account the integral role of print media in colonialism and its afterlives. The focus on the body as medium in these artworks also point to other ways of relating to time. These artists' works bring about other temporalities that contest the politics of universal time shaped by Western imperial modernities. They ask us to see what Mbembe names "entanglement", an interplay of pasts, presents and futures. These temporalities interrupt the relentless returns of traumatic time, and challenge the linear history of progress in which the black (female) body was dehumanized, bringing other visions to the fore.
So, I believe one of the contributions of our Panel debate to the theme of medialities is to invite an engagement with media history and culture from a non-West perspective. The panel discussion engages with questions, such as: What strategies arise from the traditions of embodied practice and corporeal knowledge deeply rooted in African and Afro-Brazilian culture and religiosity? How do the artists' aesthetic practices provide imaginative resources for the methodological implications of shifting the focus from written to embodied culture, from the discursive to the performative?
How does the Panel align with the Africa Multiple Cluster concepts and objectives?
Viviane: Our aim is to foster a debate about these African and Afro-Brazilian women artists' works in conversation with other spaces of Black experience and thought, from relational and reflexive perspectives. The idea is to look into these works as important contexts and strategic sites of possibilities for situated knowledge and production of knowledge about Africa and its diaspora. Also, we intend to approach these artistic practices as expressions of multiplicity, in Africa and the African diaspora, which are well placed to contribute to open up methodological, theoretical and conceptual paths to African Studies.
Jonas: As I have said before, this Panel embodies such demands for a more inclusive and diversified analysis of the Black Atlantic world to comprehend its variety of artistic forms and political claims today – particularly in the Luso-Hispanophone life space. By doing this, we believe our Panel contributes to taking into account different imagined pasts, presents, and futures created by contemporary artists and exploring the possibilities of re-writing/re-imagining/performing a decolonized history through the decolonization of the memory – which can help develop and support new methodological, theoretical, and conceptual paths in reconfiguring African Studies.
Have you thought about how you will process the outcome of the Panel?
Viviane: We thought of publishing an eBook with images of the artworks and interviews with the artists. We are also contemplating publishing our reflections on the discussions and interactions with the artists and their artworks as articles in open access journals. These articles will focus on the role of the media, as well as with issues related to cultural politics, centre/margin, decolonization, nationalism, migration and diaspora, race, ethnicity, gender and sexuality, which have been on the forefront in postcolonial/decolonial and Black/Decolonial feminist debates as these issues are also central in the artists' works.
Jonas: Undoubtedly, it will be a collaborative work between artists and researchers. With this, we hope to help collectively rethink alternative memory archives to construct a more egalitarian future where official history opens space for multiple forms of life.