"Corpo em Diáspora" ["Body in diaspora"]: A conversation with Luciane Ramos Silva
Luciane Ramos Silva is a Brazilian anthropologist, performing artist and independent curator. She is a co-editor of O Menelick2Ato an independent platform/printed magazine focused on the art of black diaspora. In her academic and artistic practice, she has been developing South-South connections with West Africa and writing about coloniality and the black diaspora. She holds a MA in Social Anthropology and a PhD in Performing Arts, both from University of Campinas, where she was a visiting professor at the Arts Institute in 2021. She is a Member of Anikaya Dance Theater, a Boston based dance company. Dr Ramos Silva is also a project manager at Acervo África, a research center focused on African culture located in São Paulo, Brazil.
Luciane Ramos Silva explores the meanings of diaspora as a sphere of relation and movement. She formulated the concept of "corpo em diápora" ["body in diaspora"]- a concept and a dance pedagogy proposition developed in her PhD dissertation in Performing Arts/Dance (University of Campinas - UNICAMP - 2018). "Body in diaspora" is the result of Luciane Ramos Silva's critical engagement in broadening the theoretical-practical field that places body, culture and coloniality from a transversal perspective that disrupts hegemonic epistemologies and foregrounds South-South relations. Her dissertation research brings as one of the focuses the work of the Senegalese choreographer Germaine Acogny, its technical and symbolic foundations, as well as its relations to Brazilian contexts, by means of Acogny's work in Balé da Cidade de São Paulo.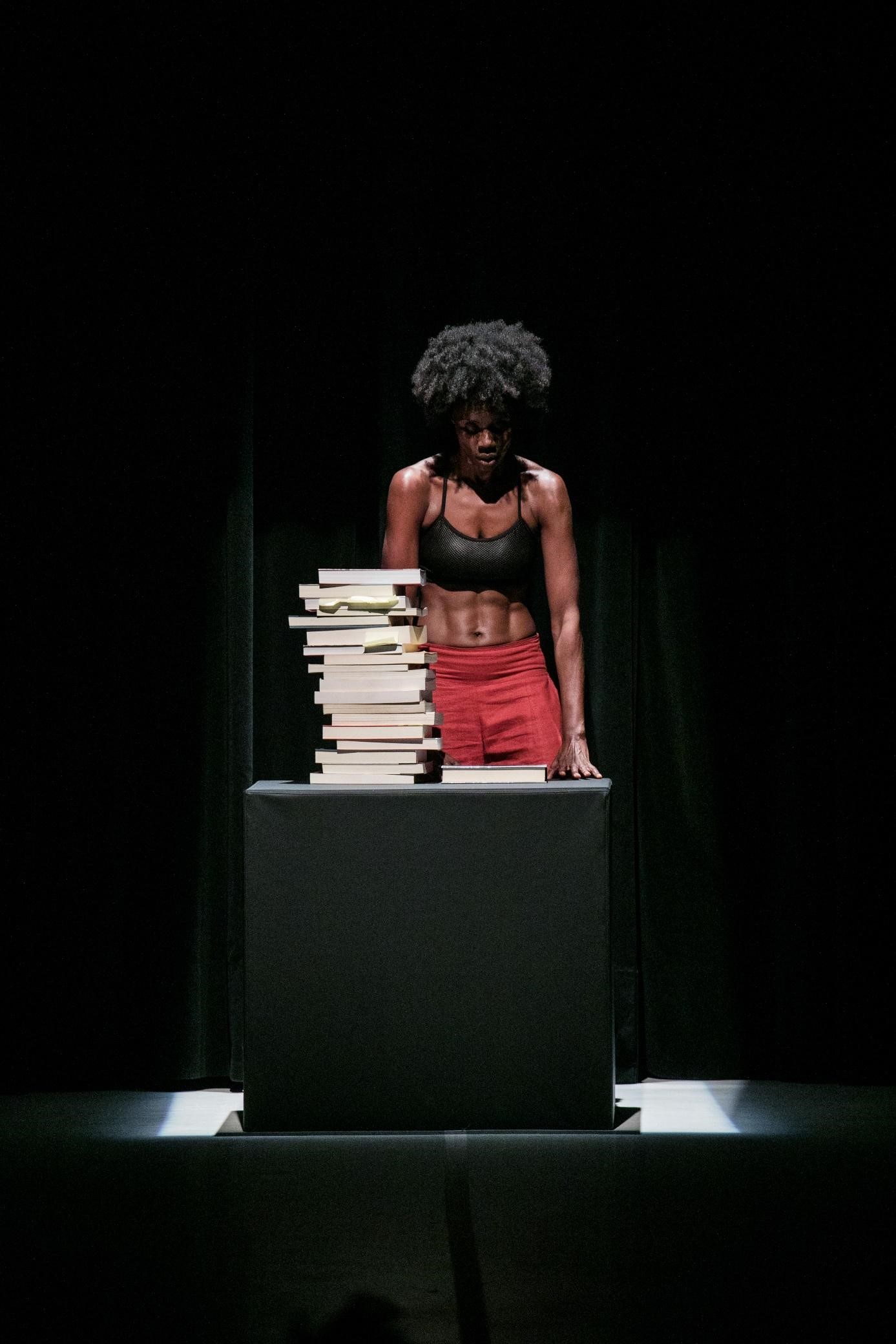 "Olhos nas costas e um riso irônico no canto da boca" [Eyes at my back and a smile in the corner of my lips] (2018). Photo: Daisy Serena.
Resulting from the critical dialogue between dance, anthropology and education, "body in diaspora" was framed in her dissertation as a dance pedagogy based on techniques, aesthetics and poetics from Africanized forms of self-writing that make up the Brazilian multiplicity. Luciane Ramos Silva's elaborations of the concept of "body in diaspora" calls us to look at the creative work of Black diasporas' ways of self-writing from reflexive and relational perspectives that takes into account the plurality of the African and Afro-diasporic corporeities. Her production reflects on black ancestry and its presence in the culture of countries that, like Brazil, have African heritage in their cultures and have lived through the colonial experience.
Luciane Ramos Silva, it is a joy to have you in our panel and we are deeply grateful for that. Thank you also for exchanging some ideas and views with us here. We would like to start by asking you to introduce yourself.
I am a dancer, anthropologist, and educator. I research Afro-Diasporic and African corporeities, by articulating the ideas of plurality, transformation, and counter-hegemonic writings. I am interested in joining people and collectivities.
You are a dancer, anthropologist, educator, choreographer, and cultural mobilizer. How do these perspectives, knowledge and experiences interact in your creative process as an artist?
I have always thought that focusing on only one area of knowledge production would not be sufficient to provide the answers I seek. The interested, committed, and critical articulation between them makes it possible to reach layers of understanding of phenomena or even helps to perceive cracks and spaces that allow me to deepen my knowledge.
Can you say a few words about your academic and artistic trajectory and the construction of the concept of "body in diaspora"?
My artistic and academic trajectory have always been somehow intertwined. Theoretical perspectives provoked artistic practice, which questioned the intellectual, especially in the constant polarities between theory and practice.
For example, when we discussed the relationship between "us and others" resulting from the violent colonial encounter, I directly related to its presence in the production, teaching, enjoying, and legitimizing the production of knowledge in dance.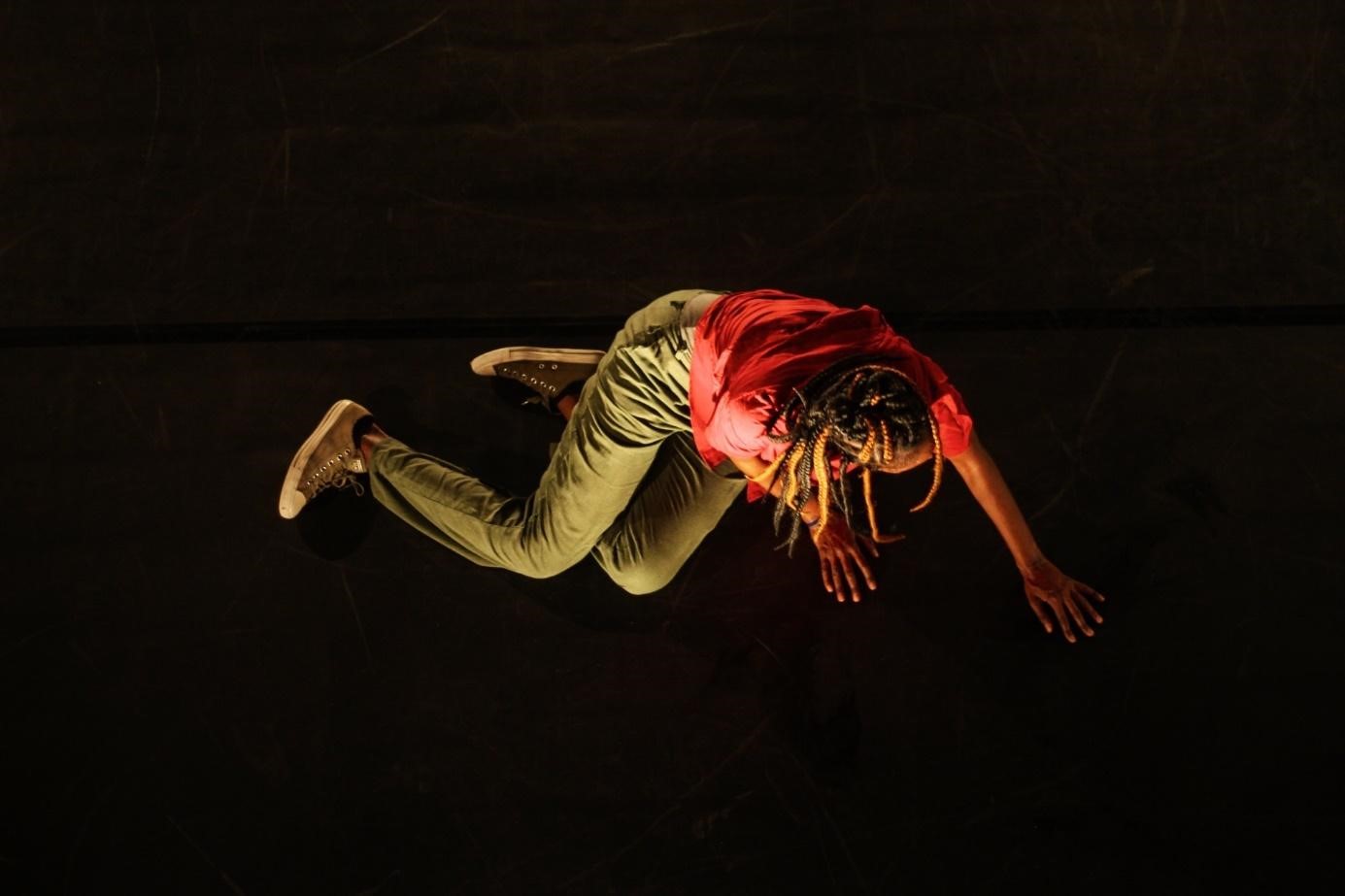 "Brita - lugares vermelhos e invisíveis para existir" [ Gravel: Red and Invisible places to exist](2022). Photo: Keithy Alves.
The idea of a "body in diaspora" was a construction. It unfolded over time precisely at this intersection between anthropology, cultural criticism, dance pedagogy, and black daily life in Brazil.

In short: the ways of thinking about the body originating from the African diaspora have always been stigmatized and generalized. "Body in diaspora" is an affirmation of singularities present in the heart of black thought and a counter-discourse to colonial misconceptions resulting from the Eurocentric narrative of the world.

The history of dance in Brazil, narrated by hegemonic spaces, has always generalized black dance writings in the "afro" category. "Body in diaspora" is a nomenclature that at the moment defines the existence of one, among many others, pedagogical proposals. In a racist, patriarchal, imperialist, capitalist world, we need to name in order to exist.
But it is worth saying that the term "Afro" can have a strategic value. So, I don't criticize those who use the term, and I just chose a nomenclature that would account for the depth of my desires.
"Body IN diaspora", this "in" is a keyword. It is a body in crossing, in relation, subject to imbalances, untimeliness, immersed in a spiraling time (remembering Leda Maria Martins[1]), and pregnant with ironies (remembering Muniz Sodré [2]). Because being in diaspora is to admit the contradiction of things, it is to put yourself trembling, distrusting the certainties and linear paths of beginning, middle, and end.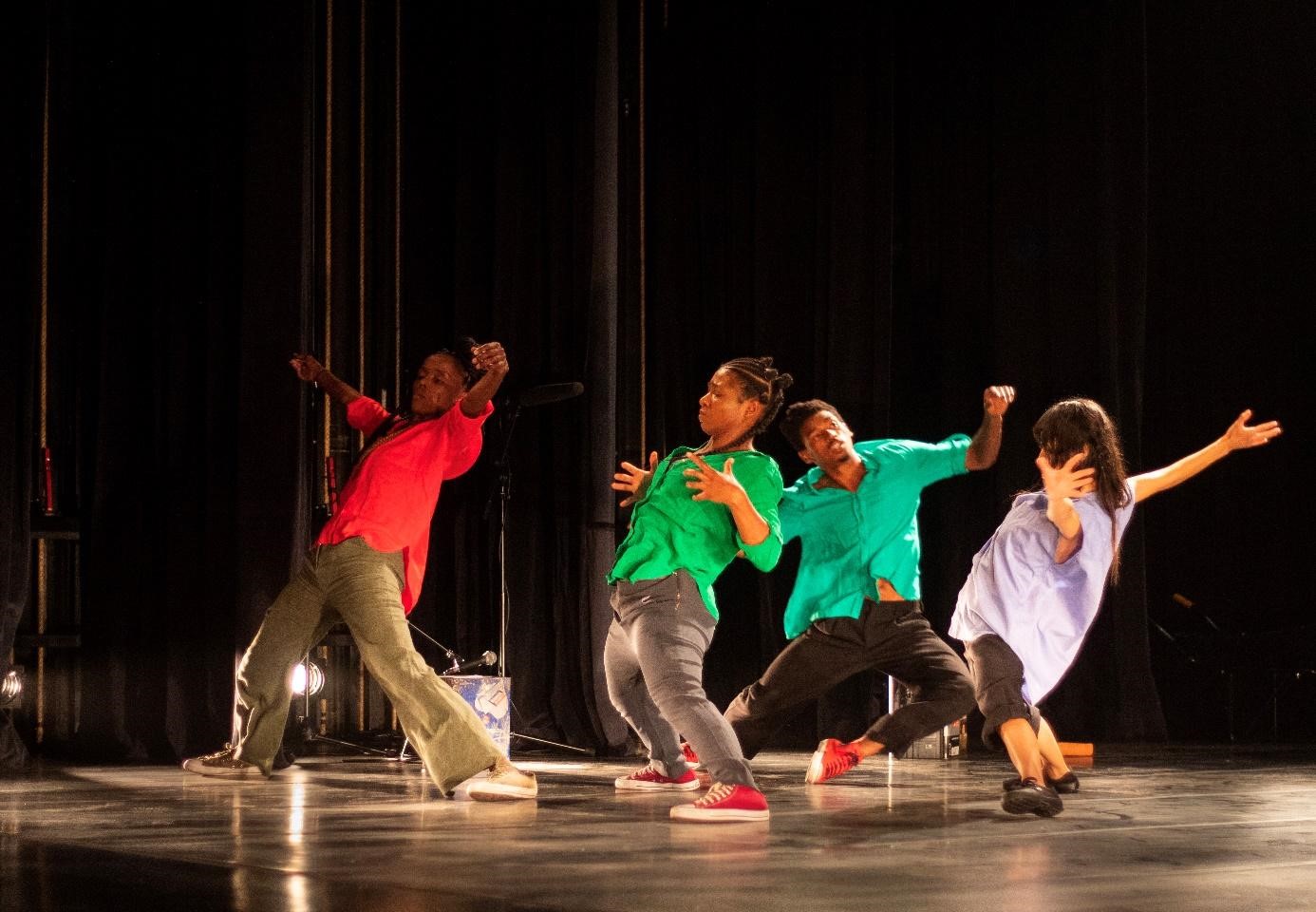 "Brita - lugares vermelhos e invisíveis para existir" [Gravel - red and invisible places to exist] (2022). Photo: Keithy Alves.
How does your research and works in different countries in West Africa have contributed to the construction of this concept?
I have a trajectory fueled by the perspectives of African studies. Acácio Almeida, Kabengele Munanga, Denise Dias Barros, Daniela Moreau, Iêda Pessoa, Fábio Leite, among others, were thinkers who influenced my desire to go to the continent and my attitude towards those infinite Africas. There was no naive desire to search for Mother Africa, nor an encounter with supposed paradises. I wanted to understand the threads that united us, the aesthetics from there and here that relate to each other, and, why not, provide me with understanding from within that place, understanding the contradictions there. It was not just about appreciating the beauties but questioning, for example, the patriarchal and patrimonial relations of African states that crossed local developments. Or questioning why all dance research centers were French sponsored? And making bridges with the similar colonial heritages in institutions in Brazil. Why do a record number of the reference artists leave the continent towards Europe? A "body drain"? Paraphrasing the idea of ​​"brain drain." At this time I was starting my career as a university professor at FACAMP, where I was teaching African studies for international relations. So my questions about new colonialisms, about the idea of development, etc, were influenced by this moment in life.
More objectively, my experiences focused on production and training centers in art and dance. Guinea Conakry, Burkina Faso, Senegal. I got to know Senegal more closely, where I had been a few times and which later became my field at the Ecole de Sables, investigating the thoughts of choreographer Germaine Acogny, one of the topics of my doctorate in Performing Arts. Going to West Africa was also about building south-south relations from a micro perspective.

I expressly sought to investigate proposals for body techniques on the [African]continent in dance.
In addition, my research with textiles, which began with my master's degree and did not continue academically, and my work on the Acervo Africa [3] , a research center focused on African material culture, which has an essential connection to West African textiles, also moved my journeys and passions for this region of the continent.
Finally, I consider it essential to mention that my trips to West Africa have a great influence not only on the construction of the concept of "body in diaspora", as a pedagogy, but also on my own Body in diaspora, reflecting on the dilemmas, challenges, beauties, and hardships of a planet inhabited by multiplicities, and among them, the black multiplicities.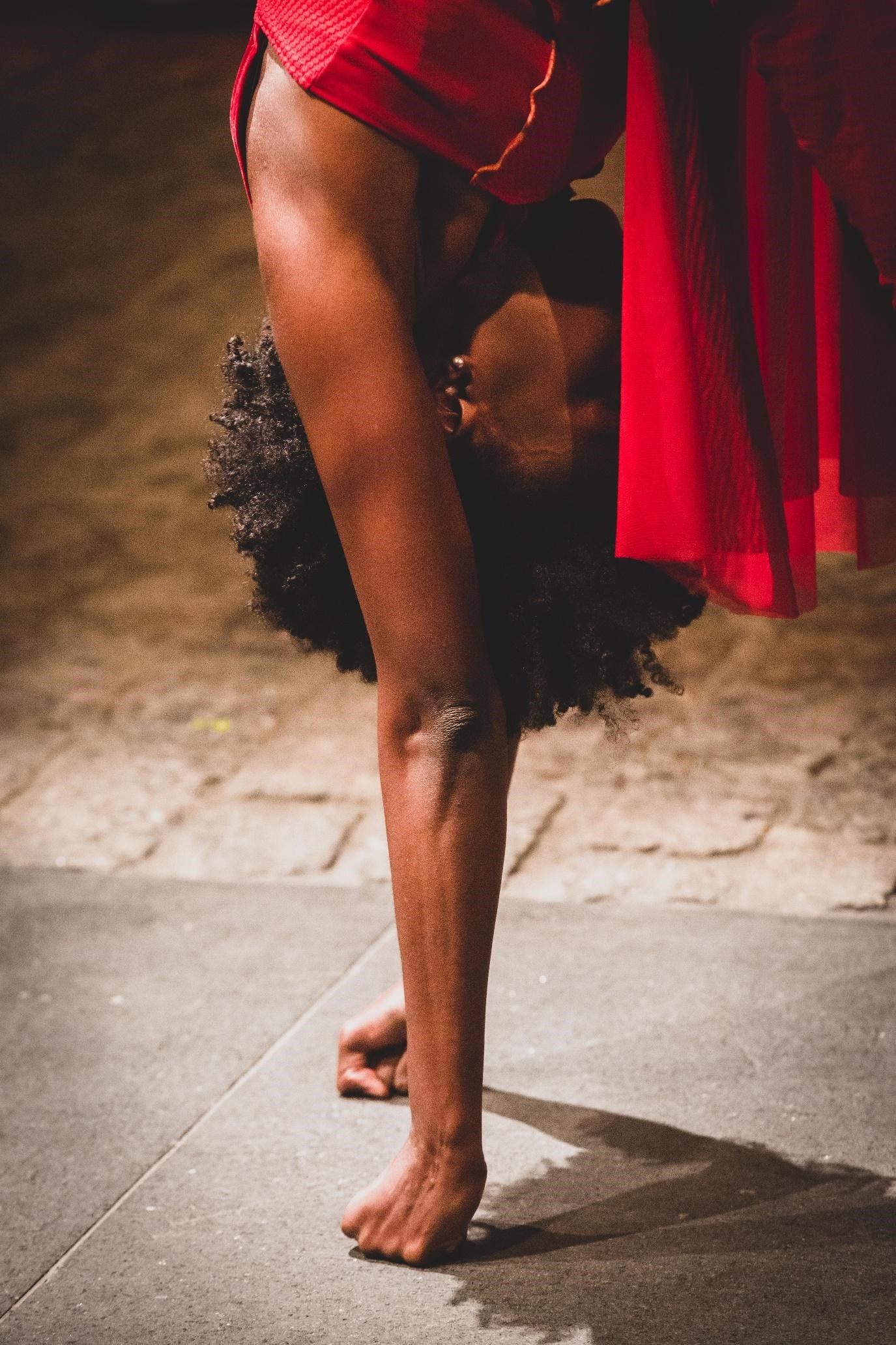 "Na fresta da certeza , o vermelho escuro" [In the crack of certainty, the dark red] (2018). Photo: Daisy Serena
We propose a debate with you and other four Black women artists' practices and artworks through the prism of the body as a medium for knowledge production, for memory transmission...). Could you point out some avenues for us to think of this notion of the body as a site of memory and the body as a medium for other ways of knowing and re-membering from the perspective of your work as an artist?

The body is a place of memory, and in it are inscribed the experiences lived and updated in everyday life. The body as a totality of knowledge, perceived integrally, was abandoned and split, de-interlaced from the brain for a long time. The aphorism "I think therefore I am" leaves deep marks on our imagination about the body, making us believe that the body is not a way of thinking, that the body "does not know."
Dancing/The dance linked to unique cultural contexts is a way to engage and reimagine memories. I say reimagine because there are, for example, rituals, and collective celebrations that re-signify the captive past, not only for the person who dances but for the group. In this case, I call attention to community memory.
Body memory is intrinsically linked to the person's sociocultural experience; thus, body expressions are valuable ways of knowing, retaking, and reimagining. When I use the term imagination I understand that it is in all our cognitive instances .
The person's kinetic structure, motor skills or the set of coordinations, and gestural habits are also culturally situated information and often related to collective memory. I thought about these things when I heard your question…
Concerning other forms of knowledge, the very statement of the body as a production of knowledge is itself an example because in many sciences, even in the humanities, theories are rarely connected to the body. In the classrooms , for example, the body that moves more than "usual" is seen as "undisciplined". The moving body is restless because it interrogates its contexts. The moving body, the dancing body, provides self-knowledge, which generates autonomy, independence, and affection.
Knowing about our body and recognizing its heritage brings us closer to our ancestry, strengthening our knowledge about ourselves.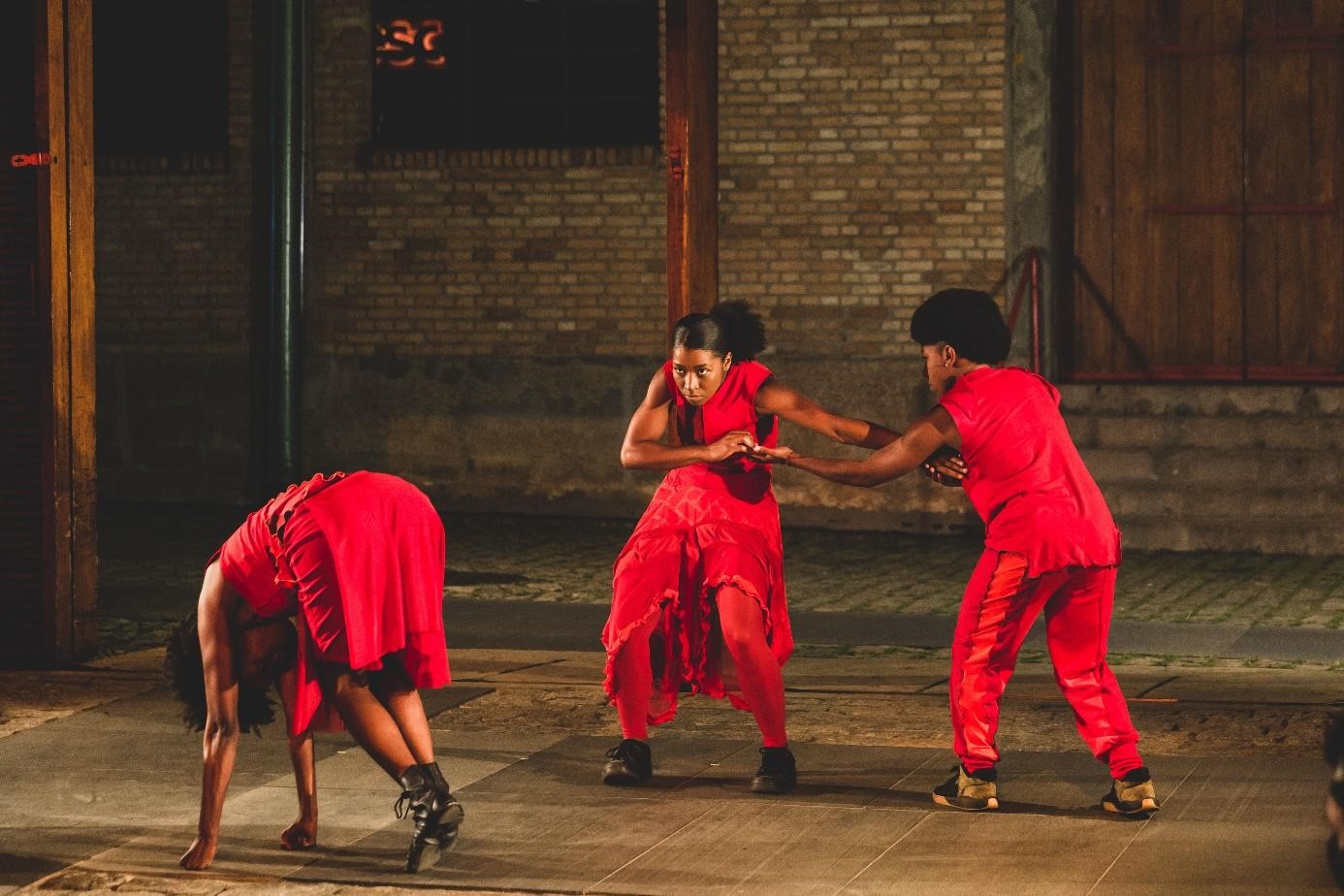 "Na fresta da certeza , o vermelho escuro" [In the crack of certainty, the dark red] (2018). Photo: Daisy Serena.
Our panel explores the interrelations between body, art, memory, performance and knowledge production. We approach these women's artworks and artistic practices by engaging with the notion of the body as a site of memory, as an archive of knowledge. This idea is in line with the objectives of the research project Black Atlantic Revisited (See here), to which our research projects [4] are affiliated. One of our main research questions is how artworks (a corpus of literary texts, film, audio/visual and performative arts) in/directly respond to the official sites and instigate alternative archives of lived and shared memories of the Transatlantic slave trade. We would like to hear your view on how your work, and maybe other African oriented artworks and artistic practices that foreground the Black female body, calls into being other archives, or methodologies, strategies and insights into the construction of memory?

When we dance, we inhabit. We inhabit our structures in depth. This depth makes us recover painful and pleasant memories. That which is not seen, even unseen, is inhabited. Because when we dance a memory of pain, we are not just enduring it; we are announcing possibilities to exist. The dancing body remakes itself. It is not by chance that memory is the recreation of what has been lived.
In the pedagogy Corpo em Diaspora, I work with movement from the memories and imaginations of each person. The layers of history are engaged to apprehend, understand and then carry out the movement. And these memories are not references crystallized in the body but information that can either be known, and therefore immediately triggered by people, or unknown and learned while dancing and remembering. This is not an allusion to the innate body, that is, the body that is "born knowing," a mistake resulting from the colonial heritage that afflicts Afro-oriented dances until today. There is no innate body but a body capable of learning and cultivating. Diaspora bodies, aware of themselves, have agency.
Dance linked to the collective breaks the idea of the individual and makes the notion of a person appear. Collectively I am a person, and this belonging generates strength.
I am interested in how this force instigates the search for autonomy and how this autonomy generates a creative state, a state of imagination. When it frees colonial, slave-holding, captive references, this imagination is capable of bringing incredible bodies in images, choreography, and movement. It is not by chance that the creativities of black bodies are constantly captured by capitalism. Black bodies are strong creative worlds.
It is also interesting to conjure up the official, hegemonic archives, mourning memories that are not only linked to the black Atlantic as a loss but as an overflow. Kalunga, a word from Kikongo, has overflowing as one of its meanings. So, in order to exist, this body in diaspora needs to detach itself from the narratives defined by the "same" (thinking here of the binomial same/others) and re-imagine itself, recreating its narratives.
In this regard, how does the focus on the Black female body can retrieve neglected "libraries" and forms of writing?
In a profoundly patriarchal and racist global context, countless aesthetic and living ways are denied libraries. Throughout the history of the last centuries, hegemonic forms and their social actors had relegated black women to the most expendable strata, except when the lives of non-racialized people were at risk.
The elaborations that these women built on people/nature relationships, such as medicinal herbs, are vibrant forms of health knowledge; the logic of community care as opposed to individualism, the forms of care, healing, and self-sufficiency are other examples. The wisdom bequeathed by black women is life-sustaining technology
*Introductory text and interview elaborated by Jonas do Nascimento and Viviane de Freitas.
---
Footnotes
[1] Leda Maria Martins is one of the most influential researchers of Brazilian theater, especially black Brazilian theater. She also has a solid connection to the study of Afro-Brazilian religions. From his academic and religious approach to this universe arise the theoretical reflections present in "Afrografias da Memória", an important book published in 1997. To learn more about the concept of "spiral time," see the link: https://hemi.nyu.edu/eng/seminar/usa/text/leda_paper.html
[2] Muniz Sodré is a prominent Brazilian sociologist and writer with a vast production in the field of communication and Afro-Brazilian studies. He has taught at universities in several countries such as Sweden, France, USA, Spain, Portugal, Colombia, Bolivia, Uruguay, and Peru.
[3] See here
[4] "Brazilian (Black) Memories: Slavery and African Heritage on Screen" (Jonas do Nascimento, see link) and "The multiple temporalities and the body in the works of contemporary Afro-Brazilian women artists from Bahia-Brazil" (Viviane de Freitas, see link).
---
REFERENCES / RESEARCH SOURCES: