+++ CANCELLED +++ Negotiating Conflict in Africa
24.04.2020 - 25.04.2020
RW I - S 58, University of Bayreuth
+++ CANCELLED +++


The Research Section Moralities of the Africa Multiple Cluster of Excellence invites to the Workshop


Negotiating Conflict in Africa


Friday, April 24 – Saturday, April 25, 2020
RW I - S 58, University of Bayreuth
The workshop will analyze cases on the negotiation of conflict with respect to Africa and thereby introduce methods of negotiation and negotiation analysis. The invited speakers and trainers will offer insights into conceptual questions concerning negotiation and the role of moralities; they demonstrate methods of negotiation analysis, and in a training session specific techniques of negotiation will be taught and practiced.
The workshop focuses on three areas:
Case studies: Via case studies of negotiations and conflict settings in or about Africa the speakers will introduce basic concepts and questions of negotiation and negotiation analysis. Speakers: Doudou Sidibe (ESIEE, Paris); William Zartmann (SAIS Johns Hopkins, Washington); Florence Mpaayei (Hekima Institute, Nairobi); Marc Anstey (Nelson Mandela University, Woking); Valerie Rosoux (University of Louvain, Belgium); Mikhail Troitskiy (MGIMO, Moscow); Oshita Oshita (Society of Peace Studies, Nigeria); Olivier Faure (Sorbonne, Paris).


Exercises: In a negotiation training exercise, the participants will learn concrete methods / practices of negotiation as applied and experienced 'in real life situations'. Trainer: Paul Meerts (Netherlands Institute of International Relations, The Hague)


Negotiating ethics: Here the speakers introduce recent approaches in negotiation studies that deal with moral views (e.g. justice) as something that is also to be negotiated between parties whose moral views differ. Speakers: Cecilia Albin (University of Uppsala, Sweden); Rudolf Schüssler (University of Bayreuth)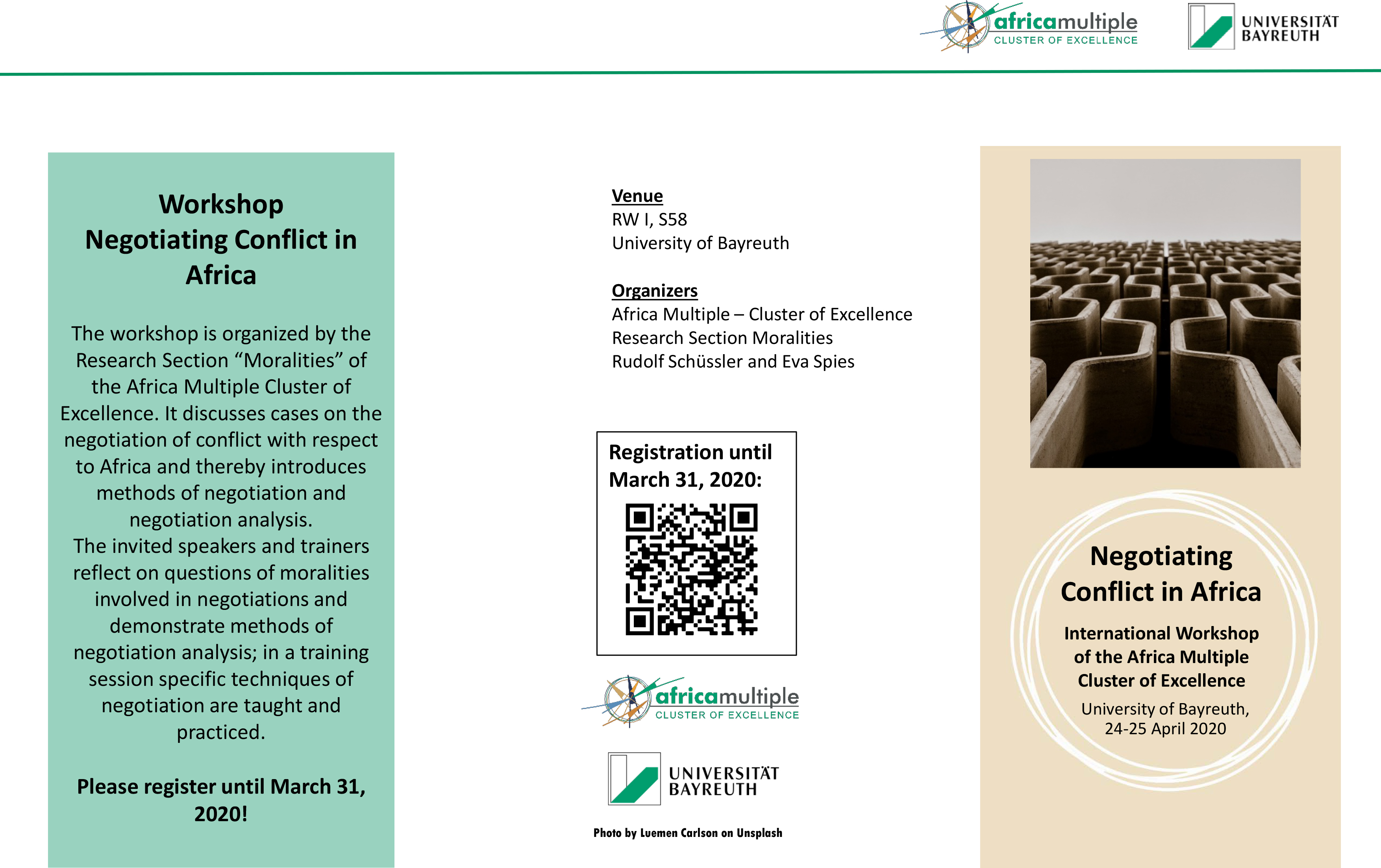 Find the flyer of the workshop here.