'"A disconnected policy network": unpacking rural sanitation in western nigeria' by Dr Adedamola Adetiba
2021-03-24 10:00 - 11:00 am
Online via Zoom
Abstract
In this paper, I unpack rural sanitation in Nigeria by revealing the strong connections that the current policy formulation and implementation mode have with colonial sanitation systems. The focus is to explore how the current positionality of key actors – traditional African institutions, environmental inspectors, and civil societies – resonate strongly with agendas prescribed for them by colonial authorities. I argue that traditional institutions' redundancy and the overbearing of environmental sanitation workers limit rural sanitation and health policies from hitting the mark in most rural communities. By critiquing the coloniality of the current scheme, the paper reveals limitations to policy implementation and provides a pathway towards the decolonisation of rural sanitary systems such that it improves the living conditions of the most engendered population in rural communities.
Date

24 March 2021
Time

11 am - 12pm (Standard South African Time)
---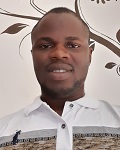 Profile of the speaker
Adedamola Adetiba is a lecturer in the Department of History and International Studies at Adekunle Ajasin University, Nigeria. He is a fellow of the ACLS African Humanities Program and a visiting fellow at the Rhodes University African Studies Centre. His current project explores the positionality of African actors and institutions in colonial medical and sanitation systems, specifically by revealing the diverse modes of Western medical discourses in rural contexts of Western Nigeria. This way he reimagines the margins of empire as sites of knowledge production and reconstruction. His research leads him to engage with a corpus of archival materials and anthropology on African conversations on health and healing in colonial Nigeria.