33rd Swahili Colloquium: Online Workshop "Critical Swahili Studies"
2021-05-13 to 05-16
Online via Zoom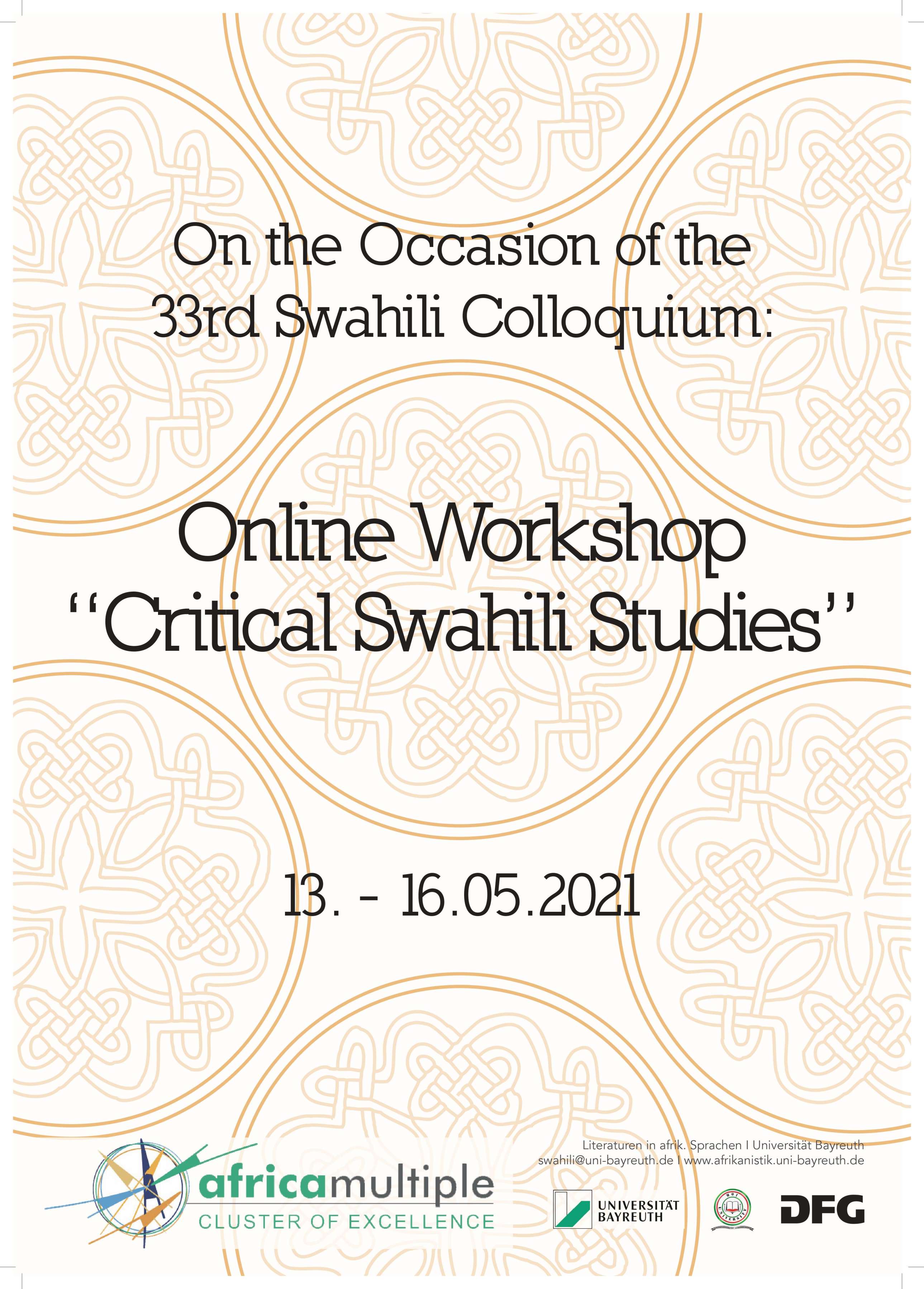 On the occasion of the 33rd Swahili Colloquium, from 14th to 16th May 2021, we will host the workshop Critical Swahili Studies funded by the Cluster of Excellence "Africa Multiple – Reconfiguring African Studies".
The Workshop will be held online via Zoom. If you want to take part, please write to us at swahili@uni-bayreuth.de and we will send you the link.
The overarching aim of this workshop is to engage in critical reflection on the field of Swahili Studies that will also contribute to Cluster of Excellence's agenda of reconfiguring African studies. We want to explore the very notion of Swahili Studies, its historical trajectories, present coordinates, as well as future perspectives in different institutions. We aim to interrogate both the complementary and conflictual relationship of different versions of Swahili Studies and locate the role Swahili Studies plays in current critical debates about area studies in order to assess the future role of Critical Swahili Studies.
About

The Swahili Colloquium has become a well-established forum in Bayreuth. Founded in 1987, the Colloquium has regularly been supported by the German Research Council (DFG). Every year, we invite scholars and researchers from different disciplines, who work on various aspects of the language and the respective culture(s) of Eastern Africa and the diaspora. The multidisciplinary approach and the wide range of contributions from Linguistics and Literary Studies to Anthropology and History particularly account for its appeal. We are always looking forward to welcoming new participants at the Swahili Colloquium. The conference languages are Swahili and English.
To access the full program of this workshop, please click here.