Pandemics and Utopias - Live 7: "Identity politics in the era of fake news: journalism and pandemics (topic 3)"
2021-05-27 15:00
Online via Zoom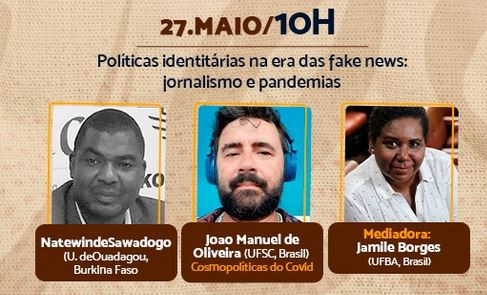 Natewinde Sawadogo (University of Ouadagou, Burkina Faso): "Etat d'urgence, professionnalisme et lute contre la covid-19 au Burkina Faso"

Joao Manuel de Oliveira (UFSC, Brazil): "The cosmopolitics of Covid"

Moderator: Jamile Borges (UFBA, Brazil)

---
Main topics­:

Topic 1: durable inequalities and pandemics
Topic 2: critical epidemiology
Topic 3: research methods strategies to circulate information
Topic 4: masculinity, pandemics and authoritarianism
---
Organizational Information
The XXI edition of the advanced and intensive course "Factory of Ideas - Doctoral School" will be held entirely on a virtual platform for five weeks from May 4 to June 10, 2021. For the first time, the course will rely entirely on distance learning through a set of 12 lives.
The virtual platform used will be Streamyard and the whole program will also be published on the Youtube Channel of the event.
For more information please follow this link to the website.