Panafest / Emanicipation Day 2021
2021-07-23 to 2021-08-02
Cape Coast, Ghana & In Virtual Space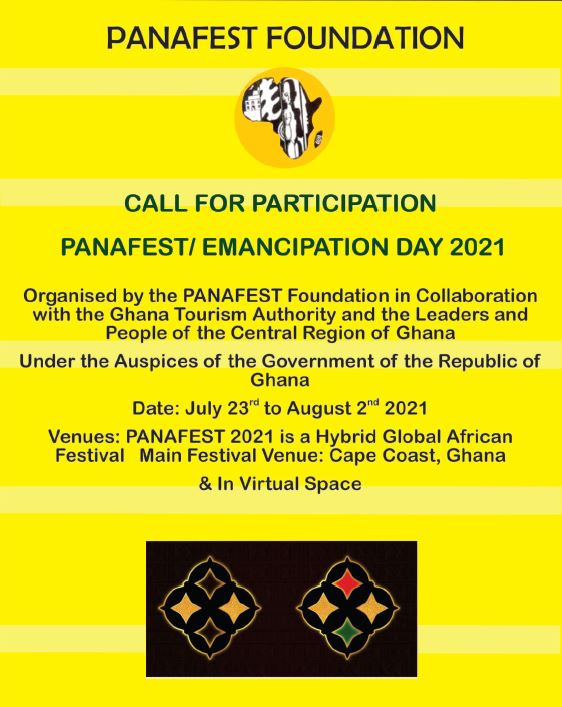 Call for Participation:
PANAFEST / EMANICIPATION DAY 2021

Organized by the PANAFEST Foundation in collaboration with the Ghana tourism authority and the leaders and people of the central region of Ghana
Under the auspices of the government of the republic of Ghana
Date: July 23rd to August 2nd 2021
Venues: PANAFEST 2021 is a hybrid global African festival
Main festival venue: Cape Coast, Ghana & in virtual space
Theme: Securing the African family: Our soul, our health, our wealth
Background
The Pan African Arts Festival originally known as the Pan African Historical Theatre Festival is a landmark biennial event which is celebrated in the spirit of "Re-uniting the African Family: Pan Africanism and the African Renaissance." celebrated since 1992, the festival addresses the most traumatic interuption that ever occured in the natural evolution of African societies which profoundedly eroded the self-confidence and freedom for self-determination of the whole people. The festival conciously makes the most prominent European edifices through which the slave trade was conducted as sites and black drops for manifestations, ceremonies and performances aimed at purging the pain of diaspora, acknowledging the residual effects of the trade on the continent and re-uniting the two sides of the African family to forge a positive future in the contemporary global environment. Alongside the healing processes, PANAFEST celebrates the strengths and resilience of African culture and achievements of Africans. It is designed to help African reconnect with their strengths.
The 2021 Edition of Panafest
Last year the African family came together in large numbers to participate in ceremonies, rites performances and conferences, which PANAFEST has become known for. Certainly, the context of the commemoration of the infamous milestone of the 400 year anniversary of the documented arrival of Africans in the English colony of Virginia, and the declaration of 2019 as the 'Year of Return' provided a poignant focus for the festival.
To find the complete call for participation, please click here.
For the official website of the festival, please click here.