Panel Discussion: Racism and the New Right in German Contexts
22.11.2019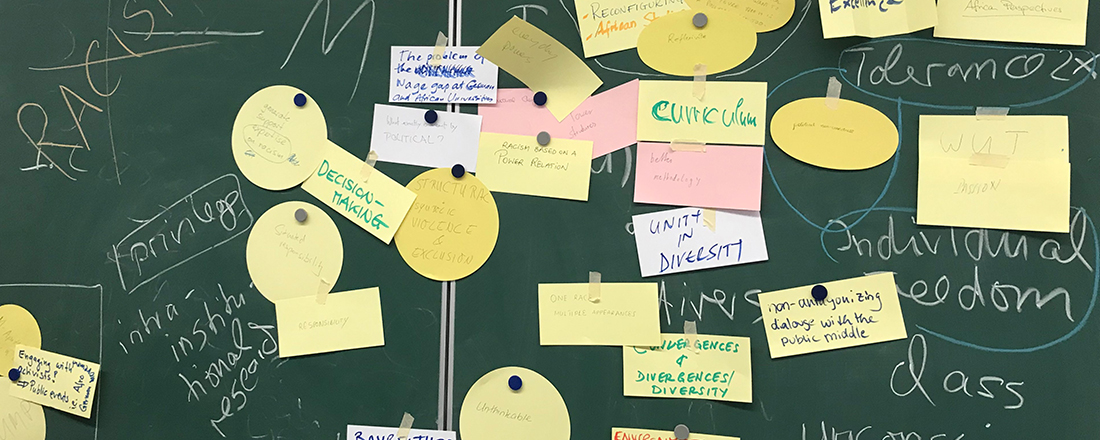 In a Knowledge Lab Panel Discussion taking place on 21 November 2019 Cluster members were invited to debate racism in German academia. The group also defined means to an ethical conduct within African Studies in general and the Cluster's Research Environment in particular.
By Susan Arndt, Principal Investigator, Africa Multiple Cluster of Excellence, University of Bayreuth
On 21 November 2019, the Africa Multiple Cluster of Excellence invited its members to a Knowledge Lab Panel Discussion on Racism and the New Right in German university contexts.The session was opened by a presentation on racism which posited that German academia is political, power-coded and positioned. The presenters engaged in defining racism as a longlasting and omnipresent system of power that underscores white supremacist ideologies and agendas.
In a second step, Western humanism and its humanities were featured as potent actors in the invention of "human races" and the implementation of (scientific) racism. German Enlightenment philosopher Immanuel Kant's introduction of the concept of 'race' into German academia in order to legitimate slavery and colonialism, has since stuck, becoming thus instrumental in legitimizing hierarchies and discrimination. This has also affected knowledge production methodologies and practices while building and reinforcing both conceptual and institutional walls.
Critical Humanities in general and, African Studies especially, need to revisit their historical culpabilities connected to racism, translating this awareness into forms of commitment in the present. Thus framed, the presenters identified patterns of white privilege and racist discrimination in German academia and society, noting in particular that German scholars of colour are barely visible in German academia at faculty level at most universities. White academic structures seem intent on keeping white spaces white, thus consolidating the image of the ivory tower.
Anti-racist language has been frequently condemned as being "too politically correct", thus curtailing white freedoms of expression and rights to democracy. And yet one might ask, why are the rights of people of Colour in Germany to live free of discrimination not taken more seriously as forms of democracy? This question resonated alongside Bayreuth's visible, unapologetic and consistent relationship with and implementation of the M-word in the naming of buildings, companies, associations and food (e.g. chocolate pastries and locally brewed beer). This aspect was addressed as a dimension of public life that forms a significant contextual backdrop to the scholarly work being produced in German university contexts.
Contingent on these discussions, the growing presence of the so-called New Right in German universities was discussed. It was emphasised how the respective violent narrations rest on the principles of white supremacy and various facets of racism (against Black, Muslim and Jewish people) as well as antifeminist, misogynistic, and homophobic positions and the denial of climate change.
The concluding debate featured the need for an ethical turn within African Studies in general and the Cluster's research environment in particular. Commitments were formulated to engage with racism in everyday Bayreuth, its visa policies as well as academic structures within and beyond the Africa Multiple Cluster of Excellence. Though the "Racism" Working Group was founded, the agenda is clear: racism is a challenge to be confronted by all researchers, educators and research management staff in the Cluster and beyond.