Talking moral talks with Dr. Joe Spencer-Bennett
24.02.2020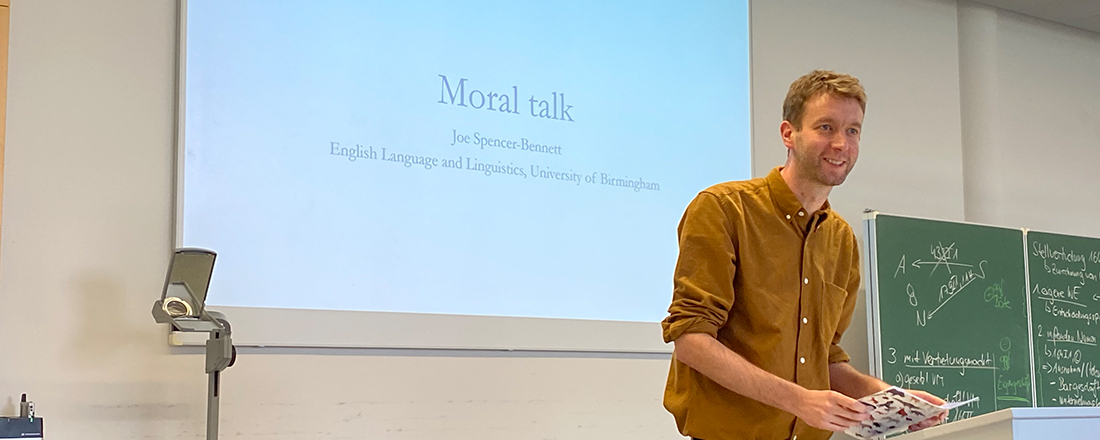 From 29 through 31 January 2020, Dr. Joe Spencer-Bennett was invited by the research section "Moralities" to stay at the University of Bayreuth for an exchange of ideas on the topic of moral communication. During his visit, the professor of Applied Linguistics gave a public lecture on "Moral talk: debates about its forms, functions and value in political life".

Following an invitation of the Cluster of Excellence's research section "Moralities", an expert on the topic of Applied Linguistics visited the University of Bayreuth this January. Dr. Joe Spencer Bennett, senior lecturer at the University of Birmingham, joined the Cluster's discussions from 29 to 31 January 2020. During his stay, the scholar exchanged ideas on concepts of moral communication with various Cluster members and participated in a work session of the project "Health discourses as moral communication? Linguistic case studies from Côte d'Ivoire and Cameroon". The meeting had been convened by the project leader Prof. Dr. Martina Drescher. Together with Dr. Oumarou Boukari (University of Bayreuth/University of Bouaké, Ivory Coast), Dr. Jean-Benoît Tsofack (University of Dschang, Cameroon) and PhD student Laura Guadagnano M.A. Dr. Spencer-Bennett discussed the project related issues and gave valuable insight on the genuinely linguistic facets of moral communication.
The highlight of Dr. Spencer's stay, however, was undoubtedly the public lecture on the topic "Moral talk: debates about its forms, functions and value in political life" that took place on 30 January 2020. In it he explored the ways, in which people use language to make moral claims. So far, this topic has not received much attention in linguistics, however, in the UK at least, these considerations became a matter of broader political significance when, following the 2007 financial crisis, political leaders from various different positions, as well as church leaders and intellectuals, argued that a reinvigoration of moral language was needed in political life. Subsequently, moral language became a matter of intense discussion, but without any strong sense of what kind of talk was at the centre of such discussions, or without elaborating what such talk was supposed to do for political leaders. Was it intended to be mere "virtue-signalling" or, worse still, was it aimed to reduce political rhetoric to pure irrational appeal?
In his talk, Dr. Spencer-Bennet, brought a sociolinguistic perspective on morally evaluative language, as it was used in British political life during this period. His research involved investigating attested language events, in which political leaders and members of the public made moral claims in their speeches. Spencer-Bennet examined closely which language they use to do so scrutinizing the linguistic and social context as well as the ways in which others respond to those claims. He argued that moral talk was (and is) something that takes place in a range of context-dependent ways in order to perform a wide range of functions, and, crucially that its value – in political and ethical terms – depends very much on the quite sophisticated (and sometimes conflictual) ways in which it is understood by members of the communities, in which it is used.
The question period after Dr. Spencer-Bennett's talk showed that the issues he had were thrilling not only for members of the research section "Moralities" but also for a wider cluster audience. (sg)