Fellow Portrait Dr. Susanne Mohr: "I am looking forward to stimulating discussions with like-minded colleagues from various disciplines"
30.04.2020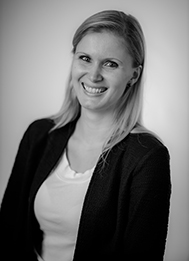 Dr. Susanne Mohr started her fellowship at the University of Bayreuth right when the Corona crisis was starting to affect the University of Bayreuth the beginning of March. However, the scholar is determined to make the best of her stay benefitting from and contributing to the Africa Multiple Cluster of Excellence as much as possible for the duration of her fellowship.
Dr. Susanne Mohr's fellowship with the Africa Cluster of Excellence laid out for the period of five months (01.03.-31.07.2020) was off to a rough start. About two weeks after the scholar arrived at the University of Bayreuth the global pandemic reached the Franconian campus and gradually more and more restrictions for personal exchange were put into place. Dr. Mohr had to return home to Cologne to continue her work there. For the linguist whose work centers on various aspects of communication the virtual and online exchange with colleagues and other fellows had to replace one on one conversations.
Research project: "Language learning in super-diversity"

No matter how difficult the situation has made the interscholar exchange Susanne Mohr has been working tirelessly on the research project that she has dedicated her fellowship to. Titled "Language learning in super-diversity: A case study of the tourist space of Zanzibar" the project aims to analyse communication and language learning from an interactive point of view and ultimately contributes to documenting contemporary learning trajectories in a globalized, mobile world. Susanne Mohr explains: "In Tanzania, of which Zanzibar forms part, English is an official language taught as a subject in primary school and employed as medium of instruction in secondary education. It is also one of the languages most frequently employed in tourism. Kiswahili, while it is the native language of most Zanzibaris, is often not spoken by tourists except for formulaic expressions like greetings, so called 'Hakuna Matata Swahili'. The central aim of my project is to describe the different trajectories and modes of learning English and Kiswahili among tourists and hosts, and to discuss them in light of recent theories of language learning in super-diversity."
She developed her interest in the topic while doing fieldwork for her postdoctoral thesis in Tanzania. During her stay, she took a few days off and went to Zanzibar, right off the coast of mainland Tanzania. "There, I was surprised that the situation on the archipelago as compared to the mainland was linguistically very different and I became annoyed by some of the language practices that reminded me over and over again that I was a tourist, not expected to speak 'proper' Kiswahili. That is when I decided to investigate these communicative practices. This is when my Zanzibar project was born". More on the beginnings of Dr. Susanne Mohr's project can be found in a recently published article in "The Mouth", a magazine on Critical Studies on Language, Culture and Society ("The 'I' in sociolinguistics: The role of subjectivity in ethnographic fieldwork". The Mouth. Critical Studies on Language Culture and Society 6: 101-118. https://themouthjournal.com/issue-no-6/). After a fieldwork trip sponsored by the North Rhine-Westphalian Academy of Sciences, Humanities and the Arts and a Feodor-Lynen fellowship from the Alexander von Humboldt foundation Dr. Mohr spent a whole year at the School for African and Gender Studies, Anthropology and Linguistics of the University of Cape Town, where she concentrated on researching the motivational aspect of language choices and language attitudes among tourists and hosts in Zanzibar.
Applying for the Cluster fellowship

During these stays, Susanne Mohr consolidated her view that being part of an African research community for an extended period of time may change and broaden a scholar's view on their research significantly. And it strengthened her decision to apply for the fellowship with the Africa Multiple Cluster of Excellence. She explains: "It promised being part of an African-centered research community, involving many forward-thinking researchers from all over Africa - and the world - in Germany." Additionally, the cluster's interdisciplinary nature, with a focus on Africa, was particularly appealing to the linguist. "I believe that the Africa Multiple cluster with its focus on multiplicity as one of its core concepts is a unique space to conduct my research", she adds. "Also, the idea of reconfiguring African Studies resonated very strongly with me. I wholeheartedly believe that research on matters relating to Africa should draw on the expertise that is present on the continent itself, i.e. research should not only be conducted ON Africa but WITH Africa." Given the University of Bayreuth's status as an important centre for Africa-related research, Susanne Mohr is conceiving the Cluster as a vital nexus targeting a reconfiguration of African Studies. "I hope to enter stimulating discussions with like-minded colleagues from various disciplines. As I mentioned before, interdisciplinary collaboration has proven vital for my research and I believe that fresh views on my project, informed by the significant Africa-related expertise present in Bayreuth, will advance and improve my work considerably. I am looking forward to fruitful (albeit virtual) exchanges."

Contributing to the Cluster's agenda

According to Mohr, several colleagues at the department of African Studies and the department of English have already expressed an interest in collaborating. And she hopes her presence in the Cluster will be beneficial for both parties. "Through the study of Africa as a super-diverse tourist location, my proposed project navigates the middle ground between theoretical approaches investigating the continent exclusively in light of global connections and others decoupling African knowledge production from Western epistemologies. In studying language use and learning in a particular local context, namely Zanzibar, related to a phenomenon brought about by globalization, i.e. tourism, the project emphasizes the necessity to portray Africa's linguistic and cultural diversity in an increasingly mobile world. In this vein, it contributes to one of the central objectives of the Africa Multiple cluster, namely the reconfiguration of African Studies and the development of new conceptual frameworks highlighting such concepts as multiplicity and relationality," the linguist explains.
And what is next?

Attending her fellowship during this global crisis has had an impact on Dr. Susanne Mohr's future plans: "In the light of the Corona crisis I would like to continue working on language and tourism. Many of my participants, some of whom have become friends over the years, might not survive the crisis economically. Tourism is a major economic sector on Unguja Island and people will have to be creative in order to secure their livelihood." A great number of different discursive strategies of tourist locations around the world are emerging digitally and inspire the scholar to steer her research into the direction of comparing local practices in Zanzibar with other island locations like the Maldives or African tourist hot spots in South Africa.
Another project that Dr. Susanne Mohr is contemplating working on are cross-linguistic comparisons between different sign languages and societies. She explains: "A comparison between Irish Sign Language and South African Sign Language are particularly interesting, given that these are due to historical reasons typologically related. In a way, I would stay connected to the cluster's key concepts in this way, in exploring relationalities between Global South and North." (sg)