Thoko Kaime: Inaugural Lecture and African Law Week
04.12.2021
In mid-November Prof. Thoko Kaime delivered his inaugural lecture entitled "Legitimacy, Public International Law and Intractable Problems" as part of the African Law Week that the chair of African Legal Studies had organised.
by Isabelle Zundel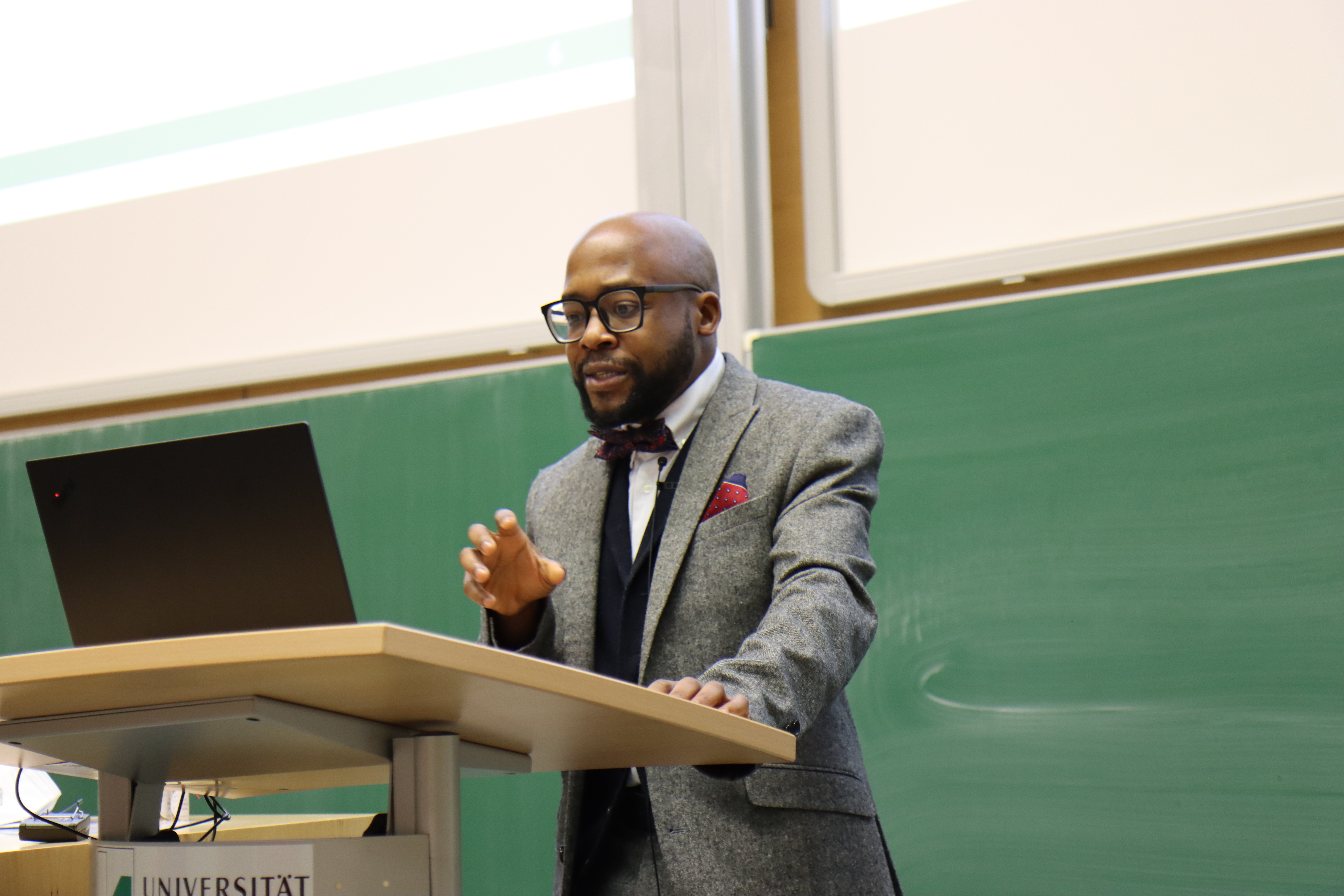 After almost two years at the University of Bayreuth and as chair of African Legal Studies in the Faculty of Law, Business and Economics, Prof. Thoko Kaime had the chance to invite to his Inaugural lecture.
The academic tradition was embedded in the African Law Week containing a number of stimulating events around the topic "The continuous search for coherence in Africa's Plural Legal Systems" for students and early-career scholars, organised by Prof. Bernd Kannowski, Prof. Hassan Ndzovu and Prof. Thoko Kaime.
The lecture on "legitimacy, public international law and intractable problems" itself took place on 18 November 2021. In his opening words, the Dean of the Faculty of Law, Business and Economics, Prof. Schlüchtermann underlined the necessity for the establishment of the young Chair with its remarkable focus. Prof. Seesemann, Dean of the Cluster of Excellence Africa Multiple, added a personal note that narrated the history of the Chair including the many years of groundwork by Prof. Stellenberg and Prof. Ulrike Wanitzek.
Thoko Kaime took his present and virtual guests on his academic journeys in public international law both to explain the focus of his scholarship so far and share some perspectives for the future. While taking the guests from Bangwe to Bayreuth, he showcased different intractable problems in international law, such as racism and connected these to theories of public international law. He closed his lecture with the clear statement that the law is not enough to resolve these intractable problems and therefore invited everyone to join his efforts for inter- and multidisciplinary research.
A subsequent get-together offered the time to express congratulations and dive deeper into the discussion on the impulses on public international law given during the lecture.