BIGSAS honorary doctorate for the West African sociologist and women's rights activist Fatou Sow
19.05.2022
She is a pioneer of gender studies in Africa and a feminist who has combined her scholarly work with decades of advocacy for women's rights in all areas of politics, society, economics, and religion. Senegalese sociologist and activist Dr. Fatou Sow was awarded an honorary doctorate from the University of Bayreuth on May 18, 2022. The Bayreuth International Graduate School of African Studies (BIGSAS), the international graduate school of the Cluster of Excellence "Africa Multiple" at the University of Bayreuth, had proposed her name for this honour. Dr. Fatou Sow is one of the first African women to receive an honorary doctorate in Germany.


Text by Christian Wißler, University of Bayreuth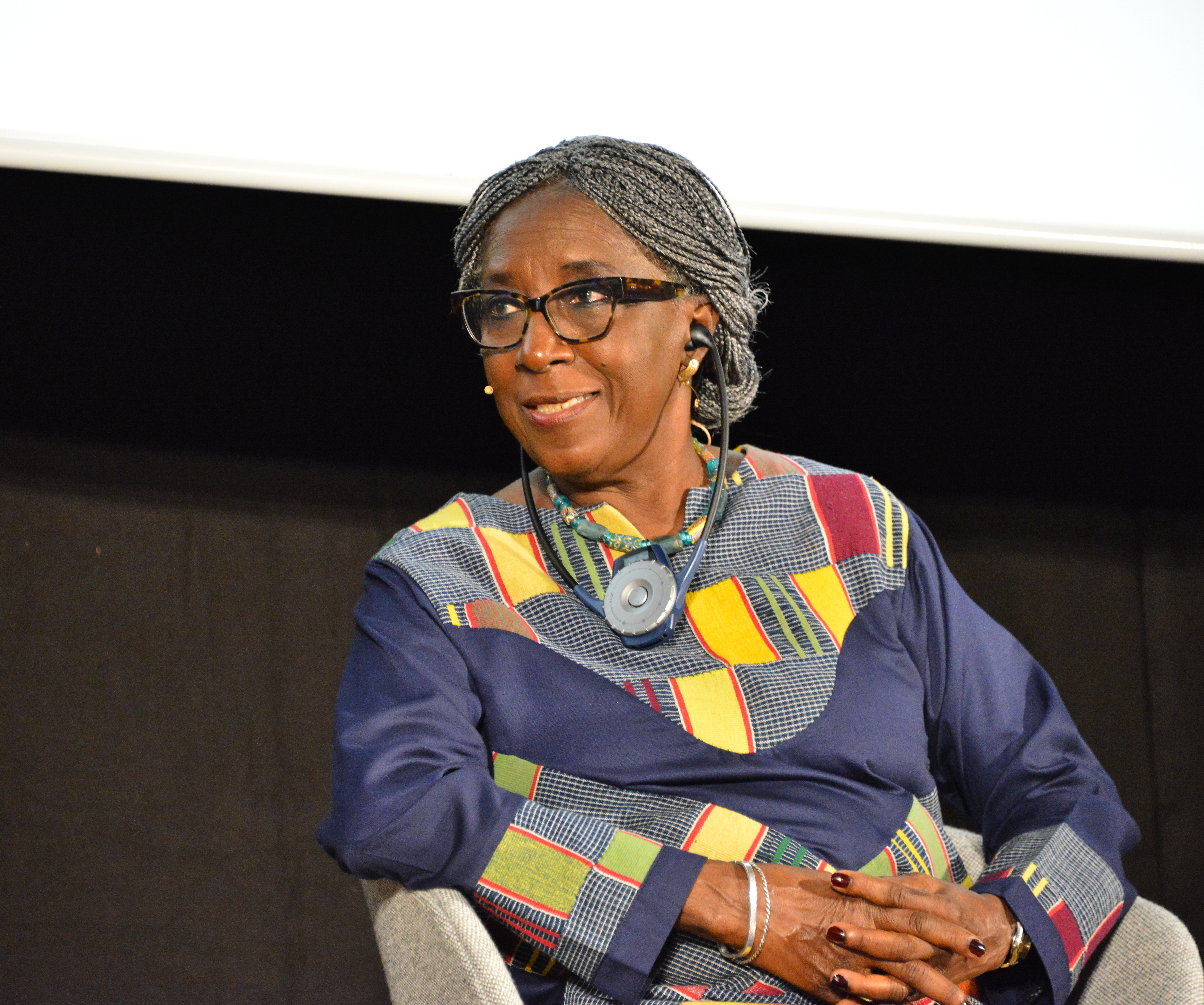 Numerous scientists, students, alumni, members, and friends of Bayreuth African Studies gathered on the University campus for the award ceremony of the honorary doctorate. Together they wanted to honour the internationally highly esteemed scientist and women's rights activist, to whom many are indebted for inspiration in their own work in various fields of science, society, and culture. Aly Keïta from the Ivory Coast and Matchume Zango from Mozambique accompanied the event with sounds and rhythms on traditional African instruments.
In his opening speech, University President Prof. Dr. Stefan Leible related the success story of Bayreuth African Studies, which dates back to the founding of the University of Bayreuth. It led to the opening of the Bayreuth International Graduate School of African Studies (BIGSAS) in 2007, which was funded for twelve years by the Excellence Initiative of the German federal and state governments. Today, BIGSAS is part of the Cluster of Excellence "Africa Multiple" at the University of Bayreuth, which has been funded by the German Excellence Strategy since 2018. Leible emphasized the unique interdisciplinary character of this internationally networked Africa focus, which involves not only the linguistics, literature, and the social sciences, but also the natural sciences, computer science, law, economics, and engineering. "Throughout all these scientific domains, gender, equal opportunity, and diversity are topics that matter highly to the University of Bayreuth, which will continue to strive for their institutional anchoring", said the University's president.
"Where is the 'African' in African Studies?" Prof. Dr. Rüdiger Seesemann, spokesman of the Cluster of Excellence "Africa Multiple", focused on this question in his welcoming address. For African Studies in Bayreuth, the maxim of "Research on Africa only with Africa" has applied right from the beginning, and the 86 Junior Fellows and 176 alumni of BIGSAS, more than half of whom come from Africa, represent an impressive testament. But overall, he said, there remain significant imbalances in academic knowledge production. "Throughout the Global North, many people continue to consider 'Africa' as a problem to be solved, rather than a voice to be heard", Seesemann said. In light of this, the Cluster of Excellence has established new forms of research cooperation, in particular four African Cluster Centres at African universities. Indeed, numerous representatives of these ACCs came to Bayreuth for the award of an honorary doctorate to Dr. Fatou Sow.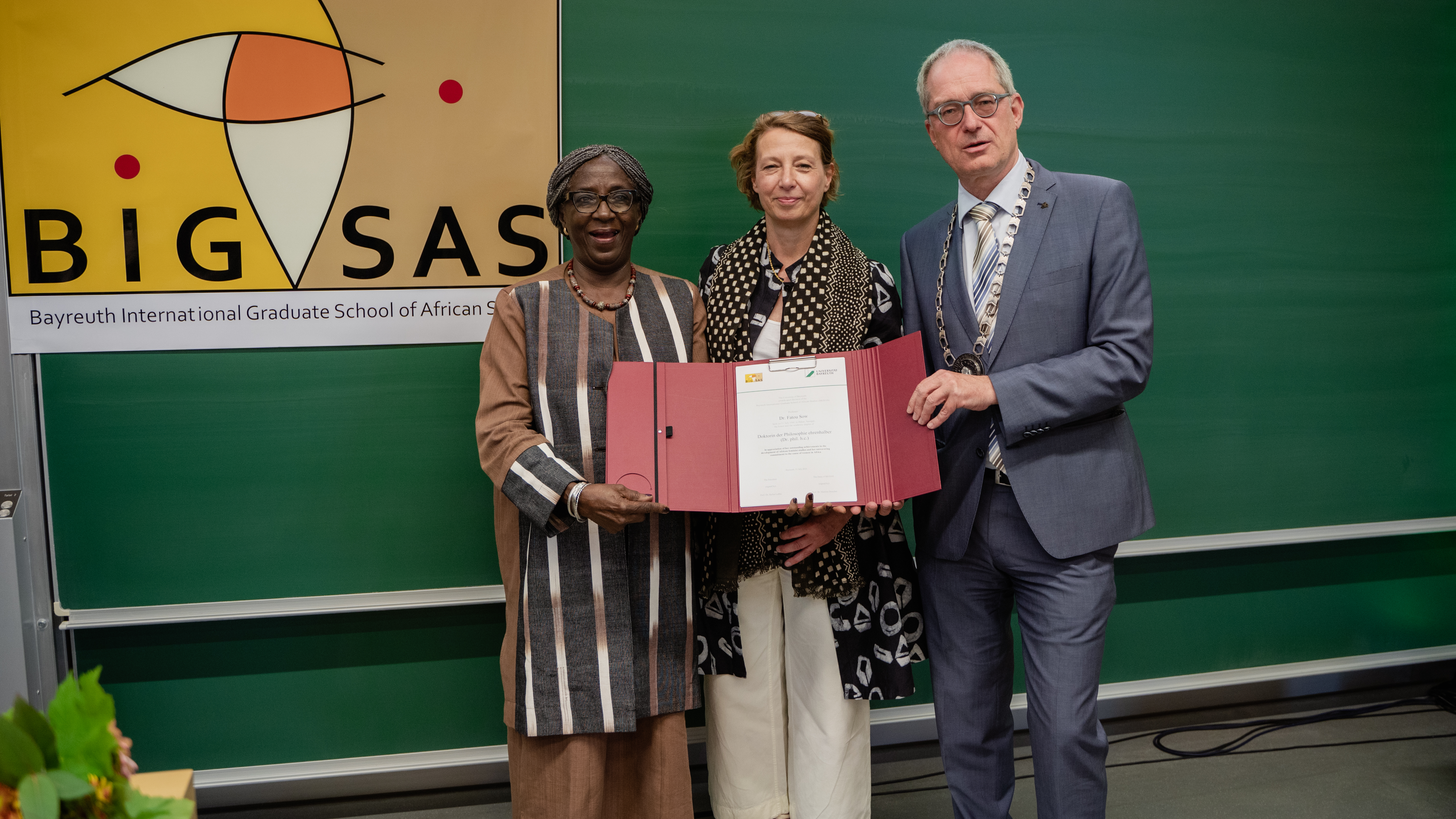 Ceremonial presentation of the honorary doctorate certificate: Dr. Fatou Sow, BIGSAS speaker Prof. Dr. Andrea Behrends and University President Prof. Dr. Stefan Leible (l.t.r.). Photo: UBT / Jonas Schöpf.
Dr. Fatou Sow is the first African feminist and the first French-speaking African scientist to be honoured in this way by a German university. "At BIGSAS, we are highly inspired by your life and work as a feminist researcher, educator activist, and academic role model for young scholars", said Prof. Dr. Andrea Behrends, spokesperson for BIGSAS, in her welcome speech. "You stand up for women's rights, especially in their access to equality, freedom, health, education, employment, and political agency. By doing this, you have constantly shown – and continue to do so – the importance of never stopping to insist on or forget these issues."
The highlight of the ceremony was the laudatory speech by Nigerien linguist Professor Dr. Ousseina Alidou from Rutgers University, USA. She placed the achievements of the Bayreuth honorary doctorate in a universal context: today, global awareness and ethical commitment are required to eliminate the legacies of injustice, exclusion, and marginalization due to social, cultural, religious, political, and geographical differences. In the face of this challenge, the Bayreuth honorary doctor has set standards both through her scientific work and her feminist commitment. "I cannot think of a more deserving African intellectual icon to celebrate with a university's highest honorary distinction than Dr Fatou Sow", said the laudator. She paid particular tribute to Fatou Sow's revolutionary pioneering work in integrating sexuality and gender studies into French-language African studies. Especially through her involvement in the Council for the Development of Social Science Research in Africa (CODESRIA), she has brought a feminist sensibility in these fields to the male-dominated African social sciences.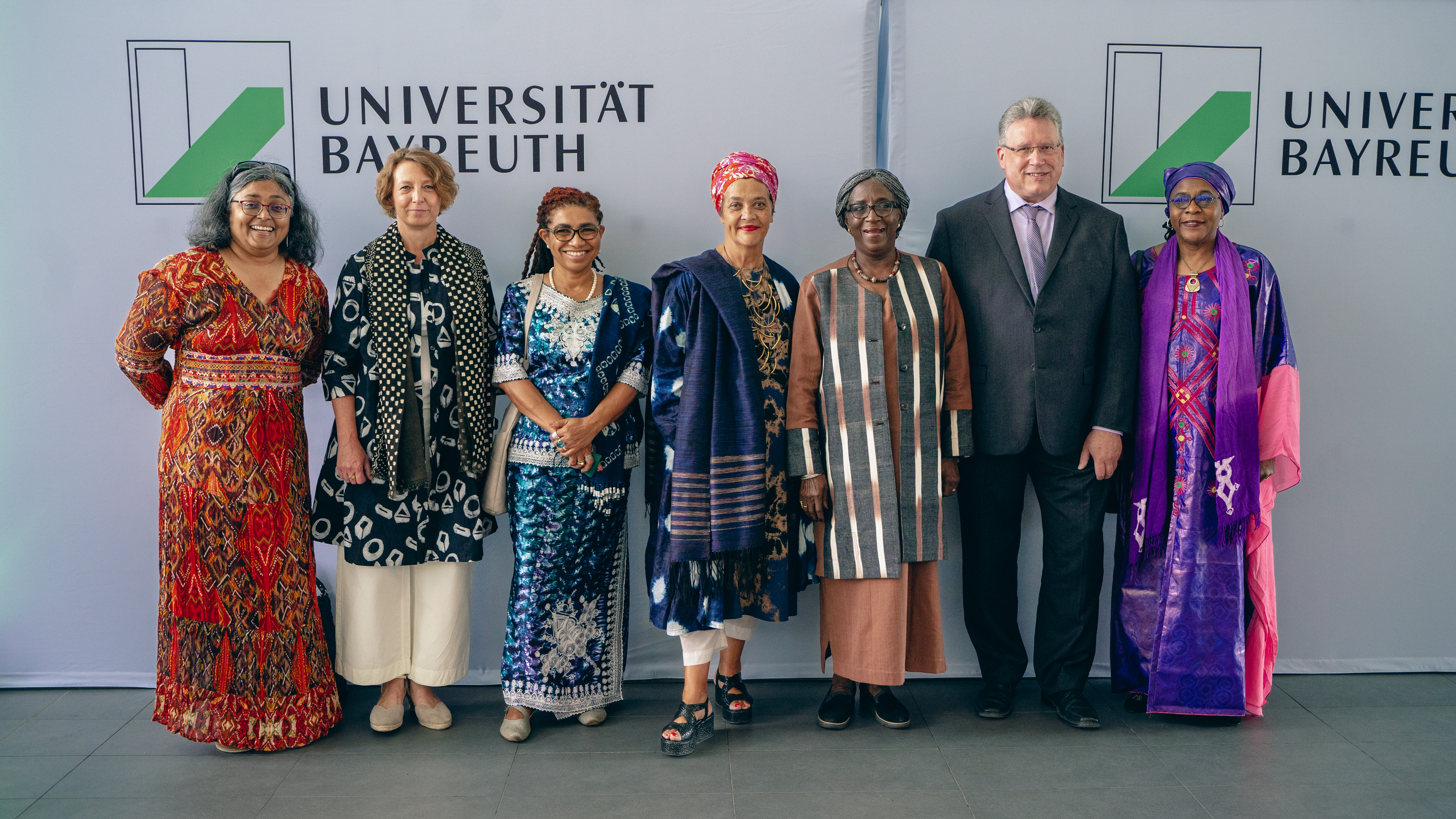 Dr. Christine Vogt-William, Director of the Gender and Diversity Office of the Cluster of Excellence "Africa Multiple"; Prof. Dr. Andrea Behrends, Spokesperson of BIGSAS; Prof. Dr. Akosua Adomako Ampofo, Spokesperson of the Advisory Board of the Cluster of Excellence "Africa Multiple", University of Ghana, Accra; Prof. Dr. Françoise Vergès, Fondation Maison des sciences de l'homme, Paris; Dr. Fatou Sow, Honorary Doctor of the University of Bayreuth; Prof. Dr. Rüdiger Seesemann, Spokesperson of the Cluster of Excellence "Africa Multiple"; Prof. Dr. Ousseina Alidou, Rutgers University, New Jersey/USA (l.t.r.). Photo: UBT / Jonas Schöpf.
At the same time, Ousseina Alidou emphasized Fatou Sow's committed engagement with new forms of oppression and marginalization of women rooted in a "complicity" of patriarchal elites and a neoliberal democratic pluralism. Very early on, the Senegalese socio-logist critically observed the consequences of a globalization promoted by African political elites that, while strengthening economic and cultural freedoms, detached itself from universal human rights and the principle of gender equality. At the same time, she said, Fatou Sow, whose academic work focuses on the impact of various religions on the lives of African women, is a staunch advocate of secularism. Everywhere in Africa, the laudator noted, state and religious authorities are closely intertwined. This intertwining of religion and politics is evident in many public debates – for example, on sexual freedom, contraception, abortion, AIDS prevention, sexual orientation, same-sex parenting, and bioethics – and poses a moral challenge that affects the identity of each and every individual.
After the ceremonial presentation of the BIGSAS honorary doctorate certificate, Fatou Sow had moving words of thanks to all those who have accompanied and supported her on her life's journey, especially her parents and siblings and her own family. She also addressed personal words of thanks to the social scientists Prof. Dr. Akosua Ampofo from Ghana and Prof. Dr. Francoise Vergès from France/USA, who were present in the audience, as well as to all those who had contributed to the award of the honorary doctorate: "I am deeply moved and proud to receive this honorary doctorate from the University of Bayreuth."
Aly Keïta and Matchume Zango went on to inspire the audience once again with their musical performance, meaning many of those present could no longer keep their seats. Dancing inspired by a love of Africa and personal congratulations for Dr. Sow brought the honorary graduation ceremony to an emotional close.