"Intermedial Indian Ocean" 
2021-11-13, 14:00 - 21:30
Reichshof Kino, Maximilianstraße 28, Bayreuth
14:00 | Opening: "Cast off! Navigating the Indian Ocean – Intermedial connections" - Clarissa Vierke & Ute Fendler

14:15 | "Fabrics of Being" - Performance Lecture Mshai Mwangola on leso textiles (Kenya)

Mshai holds a PhD in Performance Studies from Northwestern University (USA). Her thesis on Kenya's "Uhuru Generation", titled 'Performing Our Stories, Performing OurSelves', approaches the idea of a generational historical mission through the re-creation, invocation and facilitation of performance as a site of individual and communal reflection. Prior to this, she obtained an MCA (Masters of Creative Arts) from the School of Studies in the Creative Arts, University of Melbourne (Australia) and a Bachelor of Education (Hons) from Kenyatta University (Kenya). Mshaï's pedagogy, research and creative work is grounded in understanding performance as both the process and product of meaning-making
15:15 | Break

15:30 - 16:45 | "Creating relational worlds"

"Dancing Relations. Reading of Swahili Dance Poetry" - Abdilatif Abdalla (with Clarissa Vierke)

Abdilatif Abdalla and Clarissa Vierke present Swahili dance poetry from the beginning of the 19th century, on whose translation they have been working for some time with a whole group of experts - a work that has much synergy with the project Multiple Artworks - Multiple Indian Ocean. The poems, which are rich in images, have been preserved in manuscripts in Arabic script in European and East African archives, but above all they reflect performative poetry, music and dance culture of the western Indian Ocean in the pre-colonial period. They also particularly raise questions about mediality - language, writing, performance - and diaspora - Ngoma dance culture and its wide dissemination throughout the entire Indian Ocean region - which play an important role in the cluster project.

"Relating Mozambique and Goa" - Sergio Santimano
Sergio Santimano was born in Maputo, Mozambique, where he began working as a photojournalist in the early 1980s. At that time, he started an extensive documentation of the new nation that emerged after the independence from Portugal in 1975. He followed his generation, the joy and human misery of the civil war that broke out in the country during decolonization, both for domestic and international press. He moved to Sweden in 1988.
His family is of Goan origin, so that he explores his heritage in Goa as well as the links between the two countries in the exhibition in Maputo/Goa (2019) and the current exhibition in Lisbon, "Portas de Goa" (2021).

Part I: (in cooperation with Ivan Barros and Ute Fendler) "Polyrhythmic gestures: dance, music, images" - Luis Sala
Part II: (in cooperation with Tao Ravao (Madagascar/France))
Luis Sala, choreographer/dancer from Maputo who was main dancer of the National ballet of Mozambique, running a dance school in Maputo. He collaborated on various projects in the Bayreuth Academy of Advanced African Studies on Iconographies. Together with Ute Fendler and Ivan Barros (photographer, filmmaker), he worked on a videoclip and dance performance capturing the polyrhythmic nature of the Indian Ocean.
Tao Ravao is a musician from Madagascar based in France, playing Valiha, guitar and mandolin. He collaborated with Luis Sala on the project "Body and Sound" in 2016.
16:45 | Break


17:00 - 18:15 | "relational worlds: film, photography and beyond"


Nalini de Sousa (Goa) / Pedro Pombo (Goa/Lisbon): "The Club", Documentary on Zanzibar (tbc) (50min, 2021)
Discussion with P. Pombo on the work of anthropology, history and filmmaking
In exchange with Anenden and Santimano (photographer, Mozambique)
Nalini de Sousa is a filmmaker/producer. In 2018, she made the film on the Goan-Mozambican intellectual Aquino de Bragança. The new project is a film on the "the Club", the Portuguese meeting point in Zanzibar, that also exists in Goa. She worked together with Pedro Pombo on this film. He is an anthropologist from Lisbon who worked in Goa over the last couple of days.
18:15 - 19:30 | Break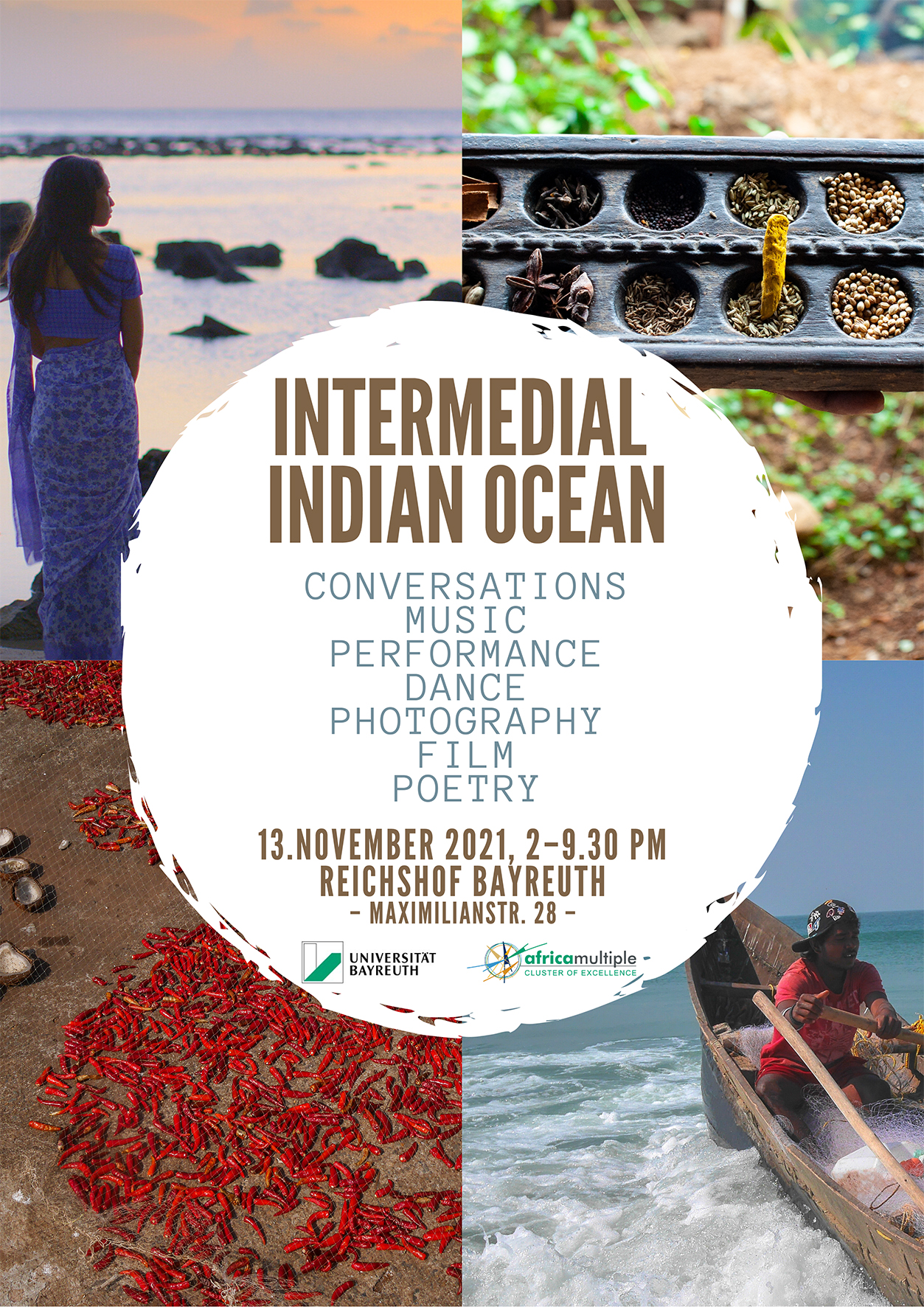 Prof. Dr. Ute Fendler and Prof. Dr. Clarissa Vierke invite the interested public to an exciting and eventful day dedicated to the Indian Ocean. Music, films, dances, photographs and poetry will transport the audience to the East African region, whose artistic and medial forms of expression are often shaped by the beautiful landscape and maritime lifestyle in which they were created.
In the evening the event will even see a world premiere: filmmaker Harrikrisna Anenden will show "Draupadi's veil" to an audience for the very first time.
​
The Cluster of Excellence has asked the following renowned artists and scholars to participate in this special event:

Abdilatif Abdalla
Harrikrisna Anenden
Mshai Mwangola
Tao Ravao
Luis Sala
Sergio Santimano
Nalini de Sousa
Pedro Pombo
For the programme please follow this link
19:30 | "Narrating the Indian Ocean" - Ananda Devi

She went on to study at the SOAS where she obtained a PhD in Social Anthropology. In 1977, she published a collection of short stories, Solstices. After spending several years in Brazzaville in the Congo, she moved to Ferney-Voltaire in 1989, the same year in which her first novel Rue la poudrière was published. This was followed by more novels: Le Voile de Draupadi in 1993, L'Arbre fouet in 1997 and, in 2000, Moi, l'interdite, which received the Prix Radio France du Livre de l'Océan Indien.
· Indian Tango, novel (2007); Indian Tango, English translation by Jean Anderson (Host Publications, 2011; Random House India, 2013); Le sari vert, novel (2009), Quand la nuit consent à me parler, poetry collection (2011) ; When the Night Agrees to Speak to Me, English translation by Kazim Ali (HarperCollins India, 2020; Deep Vellum, 2022); Les hommes qui me parlent, autobiographical novel (2011) ; Les Jours vivants, novel (2013); The Living Days, English translation by Jeffrey Zuckerman (Feminist Press, 2019; Les Fugitives, 2020); L'ambassadeur triste, short-story collection (2015) ; English translation of "The Sad Ambassador" by Namrata Poddar (2015); Ceux du large, trilingual poetry collection (2017) ; L'illusion poétique, short-story collection (2017) ; Manger l'autre, novel (2018); Danser sur tes Braises suivi de Six décennies, poetry collection (2020) ; Fardo, short-story collection (2020) ; Le Rire des déesses, novel (2021)
Anenden: Les enfants de Troumaron (Mauritius, 2013)
Harrikrisna Anenden, filmmaker from Mauritius.
« Les enfants de Troumaron » (The children of Troumaron) is based on Ananda Devi's novel "Eve de ses décombres" (2006, Eve out of her ruins). It shows the daily lives, dreams and problems of four young persons, struggling with poverty, violence, alcohol. The story is told in the perspective of Eve who lost all hopes for a better future.